Philly Pretzel Factory Aims to Take Big Bite out of U.S. Market
Twists and turns in life don't always worry Dan DiZio.
In this Salute to American Success, we're taking a look at the Philly Pretzel Factory. DiZio, the company's founder, started working in the pretzel business at age 11 when his neighbor would give him pretzels from his own bakery. DiZio would bring home the cash, and split the earnings with the neighbor.
After graduating college, DiZio and his college roommate Len Lehman decided to open their own pretzel factory in Northeast Philadelphia. Originally, the duo weren't prepared for the amount of customers frequenting the bakery.
"On the first day there was a line at the door when we were supposed to close," DiZio recalled. "We did wholesale in the morning and retail the rest of the day. The business was growing each day; we hardly got any sleep."
Playing off the increasing demand for quality pretzels, DiZio opened nearly 10 more stores on his own, but said he wasn't prepared for franchising.
"It's easier to own your own stores and have control," he said. "It was hard to trust someone else with control."
As the years passed, Philly Pretzel Factory continued to open more stores and sell to many more customers. Despite tough economic times due to the recession in the later 2000s, DiZio's business was able to avoid the struggles many other companies faced.
"It was pretty much recession-proof then," he said. We had same-store sales growth every year. We grew so fast—selling 50 stores in 2007, 46 in 2008—we almost got ahead of ourselves. "It gave us a chance to catch our breath. The economy wasn't good, but our value helped our brand during those downtimes."
Now, the company has 153 stores open and operating, with 22 more in development. By summertime of this year, DiZio says he expects the company to increase their total to 175 stores and to 200 by year's end. The long-term goal for Philly Pretzel Factory, according to DiZio, is to have 500 stores open and operating by 2020.
Today, the company's menu has expanded to more than just the traditional pretzel. Mini pretzels, also known as "penny pretzels," pretzel twists and different sandwiches made from the twisted treat are among the top-selling menu items.
"Our pretzel hotdog is a best-seller of sandwich type items," DiZio said. "Cheesesteak pretzels have done great and party trays of bite-size pretzel rivets represent a huge part of our business."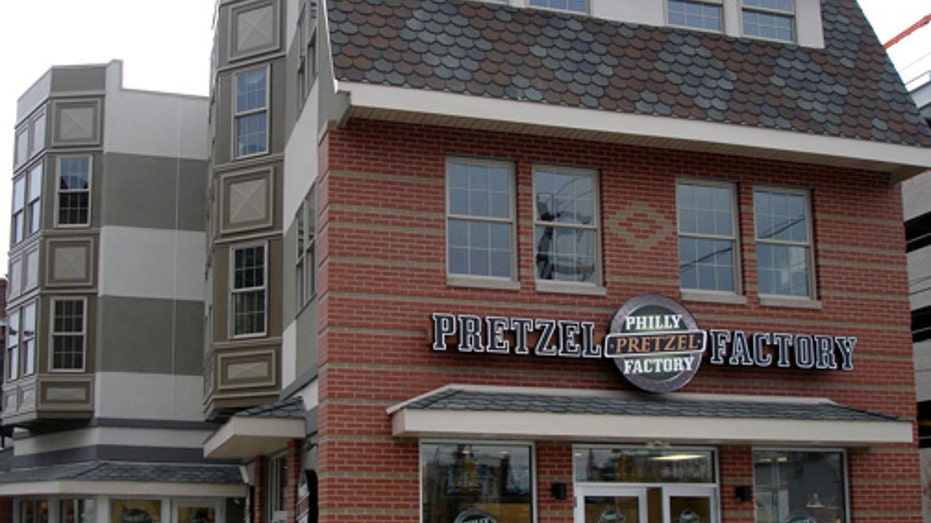 Schools and sports events (Little League baseball/softball games, youth soccer games, etc.) represent a bulk of the business as well.
"Our pretzels have 14 grams of protein in them," he said. "Schools don't allow candy, but allow our pretzels. We haven't changed our recipe due to the trend of healthy eating, but we don't pretend [the pretzels are] broccoli either."
Additionally, Philly Pretzel is increasing its presence in some Wal-Mart stores on the East Coast.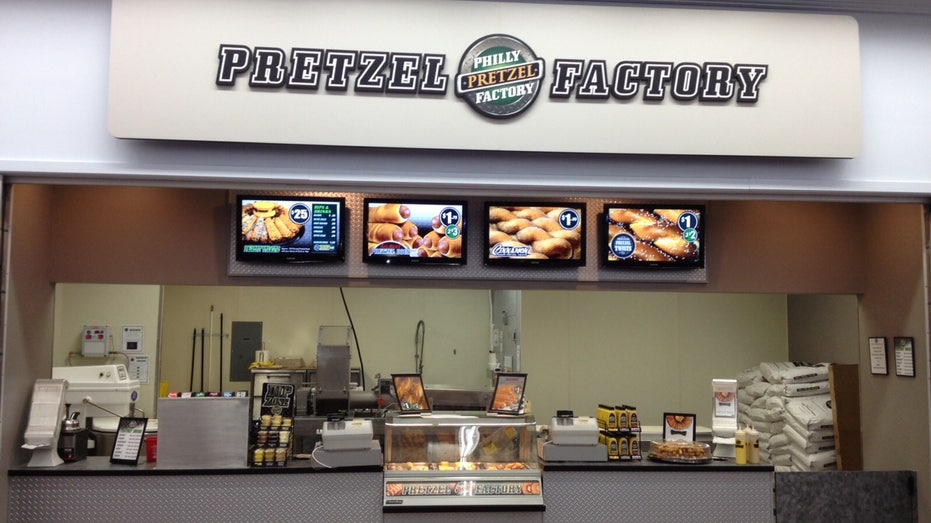 "It's a great [business] model, but different from the traditional model," he said. "It's a great partnership, though we lose out on wholesale side."
Since day one, DiZio has kept his drive and passion for selling pretzels going strong. Looking forward, the founder said he has big plans for the business.
"My dream is to become an international company, but isn't the right spot for us right now. As time goes on we will get there. We're trying to conquer the U.S. first," he said.