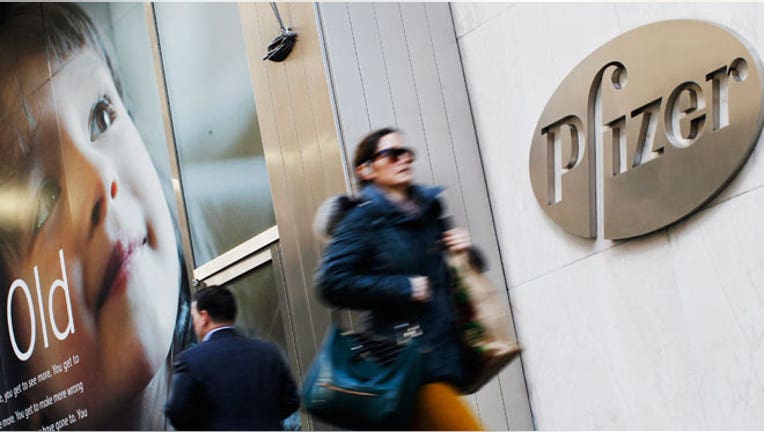 Pfizer Inc said Tuesday it will test its Xalkori lung cancer drug with Merck & Co's experimental immunotherapy pembrolizumab, in the hopes the combination will improve the outcomes for patients taking the approved Pfizer therapy.
The largest U.S. drugmakers said the combination study will begin in 2015 and be conducted by Pfizer. Financial terms of the deal were not disclosed.
Xalkori, which has annual sales of $400 million and is also known by its chemical name crizotinib, was approved in 2011 for lung cancer patients who have a specific mutation in the so-called ALK gene, as determined by an approved diagnostic test.
The mutation occurs in a small percentage of patients with non small cell lung cancer, the most common form of lung cancer. It makes them good candidates for treatment with Xalkori, a targeted drug which can help shrink or slow tumor growth for these patients.
Pembrolizumab works by removing the brakes from the immune system, allowing it to detect and destroy cancer cells.
The differing mechanisms of action from combination therapy are meant to deliver a one-two punch to cancer cells.
The Merck drug, called a PD-1 inhibitor, is expected to be approved within months in the United States and to become a blockbuster treatment for melanoma, and possibly later for lung cancer and other types of cancer, depending on results of ongoing clinical trials.
Merck has previously said it was testing pembrolizumab in combination with Pfizer's approved Inlyta (axitinib) treatment for kidney cancer, and with an experimental drug called PF-2566 that Pfizer is evaluating in numerous cancer types. PF-2566 stimulates activity of 4-1BB (CD-137), a protein involved in regulation of immune cell proliferation.
Merck is not studying pembrolizumab in combination with its own experimental drugs, but has other combination studies planned or underway with a growing number of drugmakers, including Amgen.
Merck is also conducting a study of its PD-1 inhibitor in combination with its own older melanoma drug, Sylatron.
Shares of Pfizer and Merck were both up about 0.4 percent in morning trading on the New York Stock Exchange.