Pfizer 1Q Net Sinks 19% on Tumbling Lipitor Sales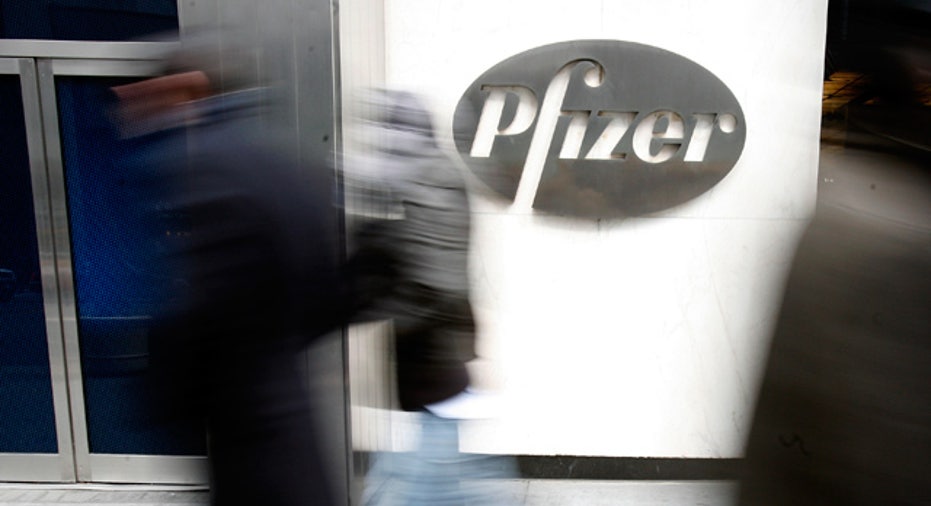 Slammed by shrinking sales of its blockbuster Lipitor drug, pharmaceutical heavyweight Pfizer (NYSE:PFE) said Tuesday it suffered a 19% slump in first-quarter profits and a steeper-than-expected decline in revenue.
Shares of the world's largest drug maker, which also downgraded its full-year view due to an asset sale, ticked slightly lower in the wake of the results.
Pfizer said it earned $1.79 billion, or 24 cents a share, last quarter, compared with a profit of $2.22 billion, or 28 cents a share, a year earlier. Excluding one-time items, it earned 58 cents a share, topping the Street's view of 56 cents.
On the other hand, revenue fell 7% to $15.41 billion, narrowly missing consensus calls for $15.47 billion.
New York-based Pfizer said its U.S. sales slid 15% to $6 billion amid the loss of domestic exclusivity on cholesterol drug Lipitor at the end of November. Lipitor sales plunged 71% year-over-year due to competition from cheaper generics.
While U.S. sales tempered, Pfizer said international revenue was flat at $9.5 billion and now represents 61% of total sales, up from 57% a year earlier.
"I am pleased with our first-quarter 2012 financial performance," said CEO Ian Read in a statement, "which was driven primarily by growth in certain brands including Celebrex, Enbrel and Lyrica, growth in key geographies such as China, as well as our continued ability to realize cost savings and efficiently allocate our shareholders' capital,"
To reflect last week's $11.85 billion sale of its nutrition unit to Swiss food giant Nestle, Pfizer cut its full-year non-GAAP EPS to $2.14 to $2.24. The optimistic end of that new range would trail the Street's view of $2.26.
Pfizer also projected full-year sales of $58 billion to $60 billion, compared with rosier views from analysts for $62.14 billion.
Shares of Pfizer slipped 0.44% to $22.80 ahead of the open, putting them on track to trim their 2012 rally of nearly 6%.