Peyton Manning's Budweiser Plugs, Explained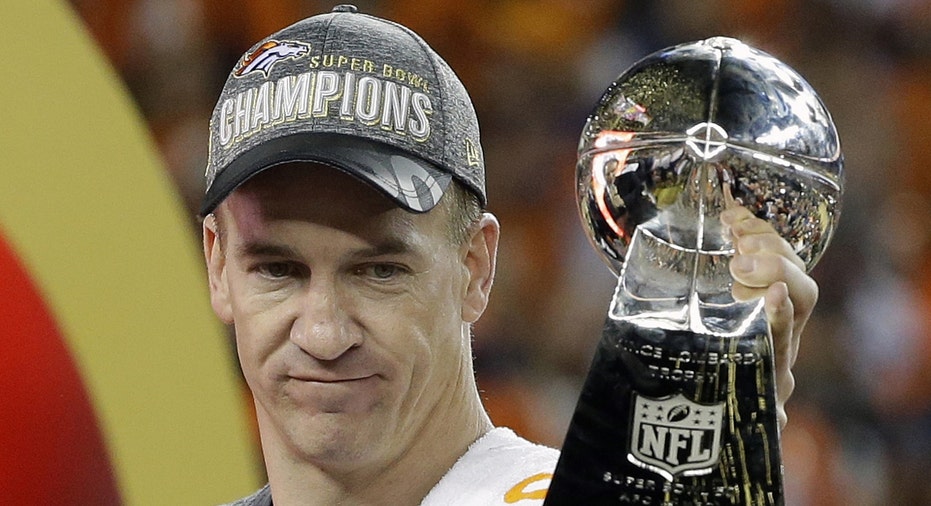 Peyton Manning is getting more attention on Monday for his beer preferences than he is for winning Super Bowl 50. The Denver Broncos quarterback's postgame plugs for Anheuser-Busch's (NYSE:BUD) Budweiser brand generated a torrent of skepticism on social media, as critics mulled over whether Manning's thirst was financially-motivated.
A Budweiser spokesperson confirmed on Twitter that Anheuser-Busch did not pay Manning to mention the brand, though they were "surprised and delighted" that he did. But Manning holds an ownership stake in two Anheuser-Busch distributorships in his home state of Louisiana, according to trade publication Beer Business Daily.
Anheuser-Busch did not immediately respond to FOXBusiness.com's request for clarification on its business relationship with Manning, nor did his marketing agent, Alan Zucker. The distributorships would give Manning a clear incentive to promote Budweiser to the masses.
"That's enough of a reason for him to mention them," said Jim Andrews, Executive Vice President at IEG, a sponsorship analysis firm. "It's not an endorsement deal, it's not a sponsorship, but he obviously has a private financial interest in seeing that the Budweiser brand does well if he has an ownership of distributorships. I don't think it means anything more than that."
Manning twice said he planned to drink Budweiser during postgame festivities – first during an on-field interview with CBS reporter Tracy Wolfson, and again while onstage for the presentation of the Vince Lombardi Trophy. Those two mentions of the Budweiser name generated an estimated $3.2 million in advertising value for Anheuser-Busch, according to Apex Analytics, a sponsorship metrics firm. Companies paid $5 million for 30 seconds of commercial time.
From a marketing perspective, the overt Budweiser plugs were an uncharacteristically clumsy moment for Manning, who has established a reputation as a talented pitchman for a variety of mainstream brands. He earns $12 million annually through endorsement deals with major companies like Nationwide, Papa John's Pizza (NASDAQ:PZZA), Gatorade, Nike (NYSE:NKE) and DirecTV.
After the game, Manning, 39, declined to say whether he would retire from the NFL or return for one more season. But several analysts, including ESPN broadcaster Damien Woody, suggested the beer shout-out may have tipped Manning's hand. The NFL forbids its active players from promoting alcohol brands.
"Even if Manning has no current connection to Budweiser, it's quite possible that he's got a deal in the works— as a spokesperson, distributor or brand ambassador – that because of the NFL's restrictions on promoting alcoholic beverages, he can't officially announce until retirement," said Bob Dorfman, an expert on sports sponsorships and executive creative director at Baker Street Advertising in San Francisco. "So the mentions yesterday were a calculated 'teaser.'"
Or maybe business never crossed Manning's mind, and he really did just want to have a Bud.