Peyton Manning Retires As NFL's Highest-Paid Player Ever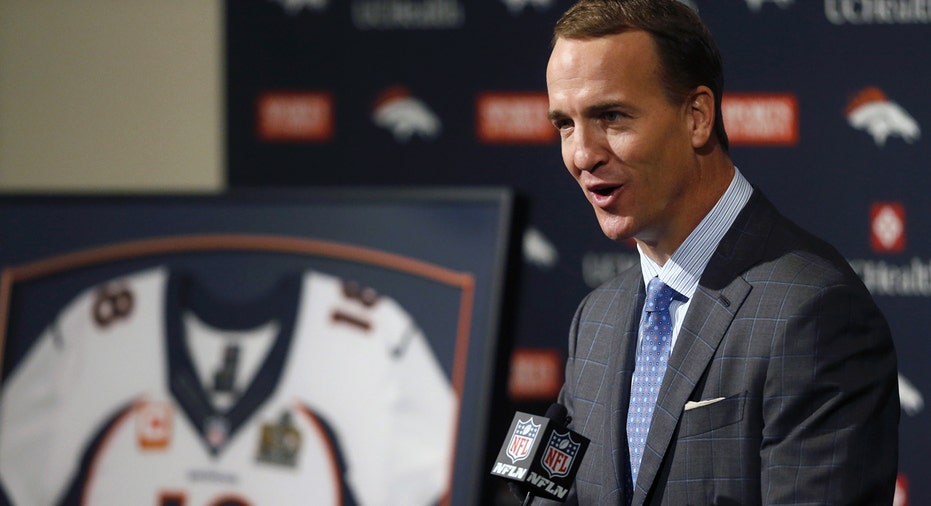 Add a massive bank account to Peyton Manning's lengthy list of NFL accomplishments. Manning retired Monday at the age of 39 as the only player in league history to approach a quarter of a billion dollars in on-field earnings.
"I revere football. I love the game. So you don't have to wonder if I'll miss it. Absolutely, absolutely I will," Manning said at a press conference.
Manning retires as a rare success story in a league where strict salary caps and the lack of guaranteed contracts often limit even a talented player's earning potential. He earned more than $248 million in salary during his 18 years in the league, more than any other player in NFL history, according to Spotrac. But Manning's business savvy wasn't limited to contract negotiations -- he's known throughout the sports world as a skilled investor, commercial pitchman and brand endorser.
He's hosted "Saturday Night Live" and appeared in national advertising campaigns for well-known brands like Nationwide Insurance and DirecTV (NYSE:T). In addition, Manning owns more than 30 Papa John's Pizza (NASDAQ:PZZA) restaurants in the greater Denver area. He earned more than $12 million in sponsorship deals in 2015 alone and about $150 million off the field over the course of his career, according to Forbes.
At this early stage, it's unclear if Manning will pursue a television career, follow fellow NFL legend and Denver Broncos executive John Elway into the front office or choose to focus on his business ventures. Manning's combination of charisma, intelligence and sheer popularity among fans has laid nearly every path open to him.
"Peyton is an intellect and will succeed if he chooses broadcasting or a front office role," David Schwab, a senior vice president at Octagon who specializes in matching brand clients with celebrity endorsers, told FOXBusiness.com. "He prepares better than anyone. He is a fantastic business speaker and those opportunities will grow as he has more time. He presents himself very well to the C-suite audience and we have used him in several times for clients and [he] continues to deliver."
By nearly any measure, Manning's status as the highest-paid football player of all time was warranted. He's the only player in NFL history to win a Super Bowl as the starting quarterback of two different teams – the Broncos and the Indianapolis Colts. He retires as the NFL's all-time leader in career passing yardage (71,940), passing touchdowns (539) and total victories (186). He's also the only player in league history to earn Most Valuable Player honors five times.
Even at age 39, with his physical skills mostly eroded, Manning made the most of his on-field financial opportunity. He took a $4 million pay cut before the 2015 season, reducing his salary from $19 million to $15 million in order to give the Broncos more salary cap flexibility. The restructured deal contained two "escalator" clauses – he could earn $2 million if Denver won the AFC Championship and another $2 million if they won the Super Bowl. With Manning at the helm and a stalwart defense backing him up, the Broncos did both.
A Super Bowl victory in his final season gave Manning much-needed positive momentum in the face of unprecedented challenges in his personal life. Within the last few months, Manning was linked to a damning Al Jazeera America report about performance-enhancing drug use and targeted by a New York Daily News column that accused him of sexually assaulting an athletic trainer during his time at the University of Tennessee in the mid-1990s. At present, Manning has managed to escape both scandals with his popularity and his reputation mostly intact.
But retirement will make it harder for Manning to connect with youthful consumers. Unlike most prominent professional athletes, Manning's presence on social media platforms is virtually nonexistent.
"Current NFL sponsors typically have a public relations and social portion to their campaigns," Schwab said. "So current players have more regular media value and Peyton doesn't use social. Those two factors will limit opportunities as well as Peyton's interest and price point."
Ironically, the two quarterbacks most frequently mentioned alongside Manning are directly behind him in terms of career earnings. Manning's retirement means that his brother, New York Giants quarterback Eli Manning, now leads all active NFL players with $187.7 million in total salary. New England Patriots quarterback Tom Brady, Peyton's frequent playoff nemesis, ranks second with $162.8 million and recently signed a three-year contract extension.
Manning said he's talked to Elway and others about what to pursue now that his playing days are over, but stressed that he hasn't made any decisions about his future.
"I'm totally convinced that the end of my football career is just the beginning of something I haven't discovered yet," Manning said.