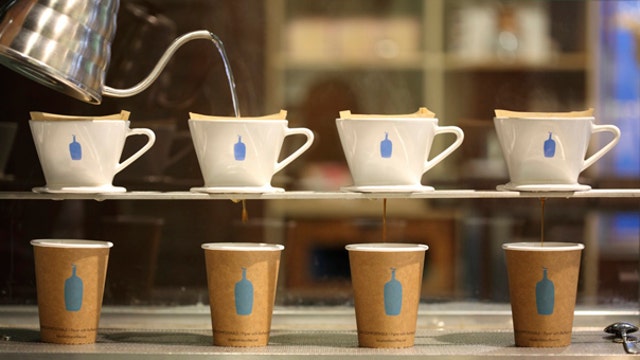 James Freeman digs coffee.
But we're not talking the two Splenda, toffee nut, soy, quad shot over ice with a swirl of whipped cream and caramel drizzle on top.
We're talking pure, unadulterated, true to its roots coffee.
He drinks it. He smells it. He tastes it. He brews it.
He more than enjoys it. He experiences it and lives it.
From the time the Blue Bottle Coffee founder was three or four years old – the details on that one are a little fuzzy to him – he's been developing and nurturing his obsession for those caffeinated cups of joe.
But, like many people who master their craft, he didn't know his passion would ultimately forge a successful career path.
Addicted.
He remembers the moment well. Vividly, in fact. The moment he first smelled coffee.
It started in his childhood home with a green canister of MJB ground coffee.
"I remember very distinctly...(my parents) would open it…and this burst of aroma would come out and it smelled incredible," Freeman said.
For years the young Freeman begged, pleaded, and tried negotiating with his parents to have a taste. When that didn't work he settled for being in charge of opening the can.
Finally, Freeman was granted the opportunity to taste the black liquid his parents drank nearly every morning. The liquid with which he'd associated such an aromatic and pleasant smell.
"It was horrible. It was just mind bogglingly horrific," he said.
Freeman believes that discord -- between smell and taste -- changed the course of his life.
"I think I was seven, eight years old," he said. "I think that really planted a seed. You know: How can something that smells so delicious, so beguiling, be so horrible?"
You might expect  Freemen to have dropped there and then any dreams of school teaching or farming or book writing for the opportunity to change the way people – if only his parents – drink coffee.
Instead, Freeman pursued a career in music and became a clarinetist. It was a career he loved, but one he admits he wasn't very good at.
"I was making a living and I was good enough to get the jobs I didn't really want, and not good enough to get the jobs I really wanted. So I was kind of stuck. I felt uninspired," he said.
Essentially, he was looking for more. What he didn't realize was the next best thing was right under his nose.
Fed up with packaged coffee in San Francisco that bore no roast date, Freeman decided to roast his own beans at home: Thus beginning a life-long pursuit of his real passion.
"It was incredible because I was tasting fresh coffee kind of for the first time," he said.
Making the Dream a Reality
In 2002, Freeman's flame for the clarinet officially burned out. That's when he got down to business and decided to take on coffee full-time, vowing to sell only coffee that's fewer than 48-hours old, made from the most delicious and responsibly-sourced beans, and enjoyed at the peak of its flavor.
He began roasting beans himself, loading them up with a drip coffee device into his car, and sharing them with the rest of California at Berkeley and Oakland farmers' markets.
He wasn't trying to compete with Peet's Coffee & Tea or Starbucks (NASDAQ:SBUX), or any other big-time coffee business. Freeman was just doing what he loved.
"I just maybe foolishly assumed if I could make coffee that I thought was delicious other people would think so, too."
And success found him.
Eleven years later he's turned his farmers' market stall into a thriving coffee brand with its own cult following and 11 locations coast-to-coast.
But was it a success he hungered for, or even anticipated in the back of his mind?
"No not at all," he said. "I just wanted to sort of pay my bills, to make a product that I thought was delicious and I was excited about. To make something beautiful and NOT play the clarinet. So, so far I've checked off all those boxes. I feel very lucky."
And is it competition he was trying to create? Not really.
"Starbucks has something like 19,000 cafes. You know when people get brewed coffee and pour out some of the coffee to leave room for cream? If it's all added up the amount they pour out is the total amount we make. I don't see us as competition," Freeman said.
Staying Humble
With a laid back personality and an almost do-what's-right-and-success-will-find-you mentality, Freeman said success isn't something that can be sought. It's something you earn.
So does he consider himself to be the definition of success? Not exactly.
"I think the secret to success is to not feel like you're particularly successful," he said. "I don't think about 'Oh great, isn't this great.' I think about: How can we be better, how can we make more delicious things, how can we make our shops more beautiful…I think the thing that's most important is to enjoy your work and to be better at it every day."
He said despite the many years he's been working with coffee and the people who drink it there are still things he needs to learn. Like the dealing with people part: meeting expectations, rewarding employees for a job well done, and communicating better.
Indeed, Freeman is a passionate guy who's fully dedicated to perfecting his craft day in and day out. It's evidenced by daily cupping rituals in which he and members of his staff not only taste and smell, but experience the coffee they find before they decide to share it with their customers. It's evidenced by his unique – and now famed – brewing process that requires several minutes as each cup is hand crafted and drip poured.
And though it takes a little longer his customers are more than happy to wait – that's evidenced by the lines that form out the door each day.
Even if it wasn't, though, Freeman said he'd still be dedicated to his labor of love.
"You have to not listen to too much advice," Freeman said. "Had I listened to a lot of advice, I wouldn't have had the guts or the foolishness to start. You just have to believe in your product, and work on your product."
Freeman said he sees would-be business owners and budding entrepreneurs bogged down by the details: The business plans, the marketing plans, the branding plans, the PR plans. But he says business ownership is more than that.
"If you really love this thing you're working on, even if you fail, it'll be a much more enjoyable path to failure," he said.
In essence, Freeman uses a quote from Picasso as a motto to live by: You have to have an idea of what you are going to do, but it should be a vague idea.
"I like it," Freeman said.