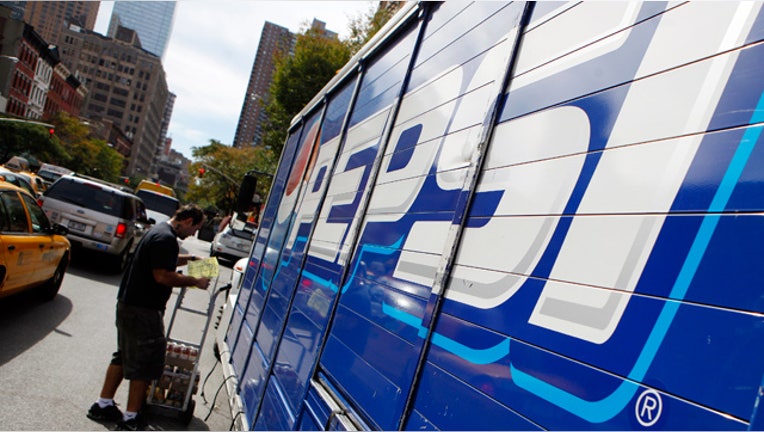 PepsiCo (NYSE:PEP) unveiled a top- and bottom-line beat in the first quarter on Thursday as demand grew worldwide for snacks and soft drinks and the food giant continued to tighten costs.
The Purchase, N.Y.–based global food and beverage company reported net income of $1.08 billion, or 69 cents a share, compared with a year-earlier profit of $1.13 billion, or 71 cents.
Excluding one-time costs, the maker of Pepsi , Mountain Dew, Dole juice and Quaker oatmeal said it earned 77 cents, topping average analyst estimates of 71 cents in a Thomson Reuters poll.
Revenue for the three months ended March 23 increased 1% to $12.58 billion from $12.4 billion a year ago, beating the Street's view of $12.53 billion.
The improvement was led by its Frito-Lay North America group that grew its market share in the U.S. during the period amid a 4% increase in volume as well as stronger demand for its soft drinks and juices in the U.S. and its Asia, Middle East and Africa segment. Partially offsetting the gains was the refranchising of its beverage business in China and negative foreign exchange rates.
"We're greatly encouraged by the strong start to 2013," PepsiCo CEO Indra Nooyi said in a statement. "Our investments in creating this portfolio are paying off and our brand and innovation strategies are driving sustainable top-line growth."
The company, which also manufactures Gatorade, continued to streamline the business during its most recent quarter and says it expects to deliver a total of $900 million in savings in 2013 as part of its three-year $3 billion cost-cutting initiative.
"We're laser focused on ramping up the effectiveness and efficiency of every aspect of our operating system, from procurement to manufacturing to selling and distribution," Nooyi said, noting the effort will "fund future growth investments and further enhance our operating margins."
Shares of Pepsi climbed 2% premarket to $80.26.
PepsiCo reaffirmed its guidance, continuing to expect in fiscal 2013 7% core constant currency EPS growth from the $4.10 posted in the 2012 period. The consensus is calling for non-GAAP EPS of $4.39.