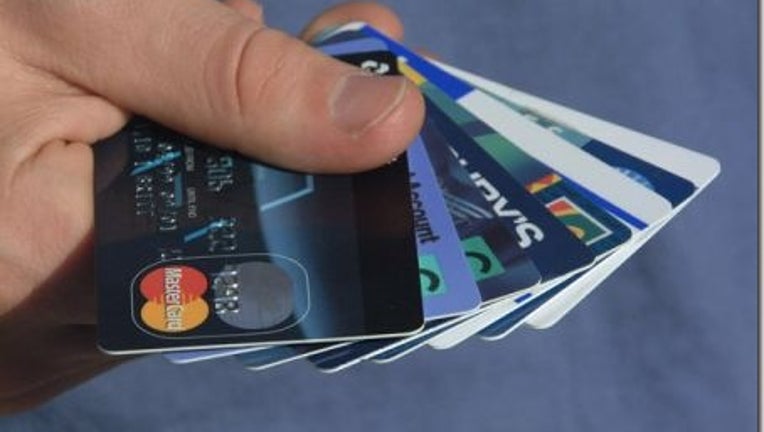 Americans are getting better at paying off their credit card bills and avoiding interest charges, but about a third are still struggling to pay more than the monthly minimum, according to a new study.
34% of credit card users sometimes made only the minimum payment in 2012, down from 40% in 2009, according to the FINRA Investor Education Foundation survey released Wednesday.
"While it's true that too many Americans still carry a balance and get charged interest, it has improved," foundation president Gerri Walsh said.
The fraction of people who were always able to pay off their full balance rose, from 41% in 2009 to 49% in 2012.
The foundation's National Financial Capability Study asked 25,000 adults about their spending, savings and other financial habits. Although people are getting a bit brighter about using their cards and making ends meet, 19% spent more money  than they made in 2012, and 40% do not have a rainy-day fund, indicating that they are living paycheck to paycheck.
"Young people in particular are unable to come up with emergency money in a pinch," Walsh said, at least partly because of their generally lower incomes.
Among other findings, the foundation's report said that 16% of card users paid a late fee in 2012, down from 26% in 2009; 8% paid an over-limit fee, down from 15%; and 49% carried a balance in some months, down from 56%.
It was unclear how much of the improvement in card management was a direct result of people managing their finances better, and how much was attributable to external forces such as the economy, Walsh said. Since the recession year of 2009 unemployment has eased, while card issuers have dropped many of their riskiest, default-prone customers.  In addition, the Credit CARD Act now requires prominent notices on monthly bills warning about the high interest costs associated with making only the minimum payment.
The prescription for avoiding costly interest charges on credit cards is to maintain a rainy-day fund equal to about three months' expenses, Walsh said.
"If you have that buffer you'll be able to pay that car repair or refrigerator," Walsh said, without having plunge into card debt. Another important step is to manage debt by determining which cards carry the highest balances and interest charges and to pay them down first.
Since the end of 2009, the amount of revolving debt held by households, chiefly credit card debt, has fallen 12.6% to $802 billion, according to unadjusted figures from the Federal Reserve.
Some of the foundation survey's findings point to benefits flowing from the CARD Act, said Kathleen Day, spokeswoman for the Center for Responsible Lending.  The 2009 law, which took effect largely in 2010, limited late fees and over-limit fees, among other provisions.
On the other hand, "there is some anecdotal evidence people are trying to manage their debt better," Day said. Card users should remember that paying even a relatively small amount over the minimum will diminish the principal balance, making a big dent in interest costs over time.
Some states better at paying
Card users in South Dakota, Iowa, Florida, Oklahoma and New Hampshire did best at paying more than the minimum, the survey found, while those in Nevada, Arkansas, Mississippi, Ohio and Kansas were most likely to pay only the minimum.
The lack of savings highlighted by the foundation's report points to the need for better education about personal finances, Consumer Financial Protection Bureau Director Richard Cordray said in a speech May 29.
"When we do not teach children about personal finance -- about managing household budgets, saving for the future, or making informed decisions about larger investments in an education or a home -- we are failing them in a shameful and costly way," Cordray said, according to a copy of his prepared remarks.
See related: 7 tips for managing online credit card spending