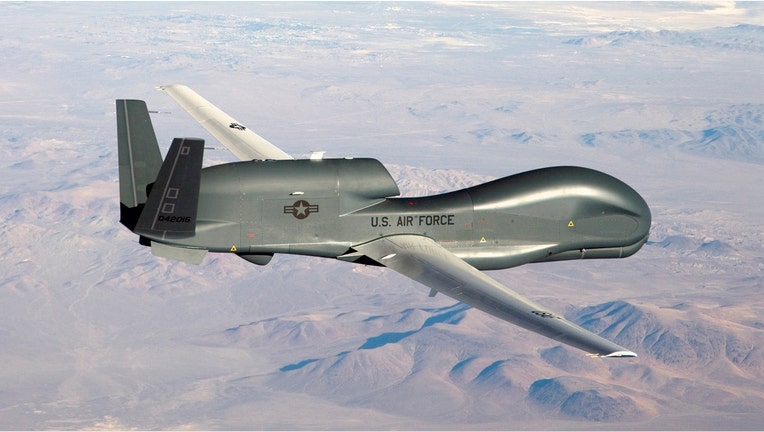 In a major show of U.S. military firepower and know how, the U.S. Air Force just announced an EQ-4 Global Hawk completed its 500th flight, "marking the first time the unmanned aircraft reached the 500-sortie milestone ." With nearly 13,000 flight hours logged, "this weapon system is living up to the Pentagon's nickname 'workhorse.'"
Staff Sgt. Bradley, a 380th Expeditionary Aircraft Maintenance Squadron tactical aircraft maintainer craftsman, said in a statement: "We call this one the workhorses because it's putting in all the hours," adding, "reaching 500 flights is a pretty big accomplishment, especially for how new the fleet is."
At an estimated cost of $223 million per unit, Northrop Grumman's (NYSE:NOC) Global Hawk is deployed to help allies worldwide in military strikes against ISIS in Syria, Iraq and Libya.
It lets U.S. forces on the ground radio in a pinpoint accurate airstrike to friendly aircraft. In the process, it helps close the communication gap from the ground to elevations as high as 60,000 feet--more than 11 miles up, out of sight to the naked eye on land. With the capability to fly for 30 hours or more, the EQ-4 Global Hawk is also configured to function as a cell phone tower in the sky, as well as conduct intelligence, surveillance and reconnaissance missions.
The drone also helps communications between U.S. and friendly forces, to avoid conflicts. "If an [allied F-15 fighter] aircraft needed to talk to one of our F-15s, this Global Hawk enables them to do that," said Bradley. "It will also allow allied troops on the ground to get in touch with our jets."
"These platforms are on both ends of the kill table, from developing targets to enabling strikes through communications they provide," said Col. John, the 380th Expeditionary Operations Group commander in a statement.
"When you have guys on the ground fighting the war and you have the Global Hawk in the air acting as a satellite, it ensures the guys on the ground can talk to the guys in the air," Senior Airmen Michael, 380th EAMS tactical aircraft maintainer journeyman added. "Flying at altitudes of 60,000 feet gives the Global Hawk UAV an added level of security."
The U.S. Air Force added in a statement that "the Airmen assigned to the 380 EOG will ensure the Global Hawks are positioned to crush our enemies while taking care of our friends."