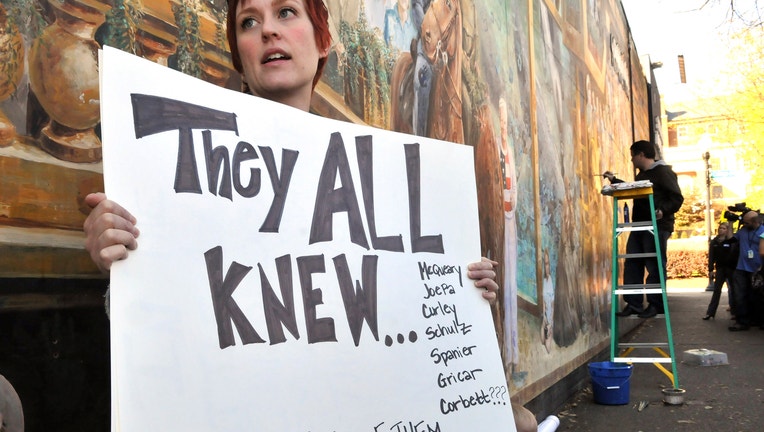 The governing body of U.S. college sports on Monday banned Penn State University from post-season football bowl games for four years, fined the school $60 million and imposed other sanctions in an unprecedented punishment for not taking action after being alerted to child sex abuse by former assistant coach Jerry Sandusky.
At a news conference in Indianapolis, Mark Emmert, president of the National Collegiate Athletic Association, said Penn State football scholarships would be reduced to 15 from 25 and the team's victories from 1998 through 2011 would be vacated.
Emmert said the NCAA chose not to levy the so-called "death penalty" that would eliminate an entire season or more for the scandal-scarred football program because it would have harmed individuals with no role in the Sandusky scandal.
In June, Sandusky was convicted of sexually abusing 10 boys over 15 years. This month, former FBI director Louis Freeh released a report that criticized the late Joe Paterno, the school's revered longtime head football coach, for his role in protecting Sandusky and the school's image at the expense of Sandusky's young victims.
The NCAA penalty was handed down one day after Penn State removed a statue of Paterno from in front of the university football stadium.
The NCAA acted with unprecedented speed, relying on Freeh's findings instead of conducting its own investigation.
Freeh's report, commissioned by the university's board of trustees and released on July 12, said Paterno and other high-ranking school officials covered up Sandusky's actions for years while demonstrating a callous disregard for the abuse victims.
Paterno was fired by Penn State's board in November, days after Sandusky was arrested for the abuse. He died in January of lung cancer.
Sandusky, 68, awaits sentencing. He faces up to 373 years in prison.