Pebble CEO Describes New Time Steel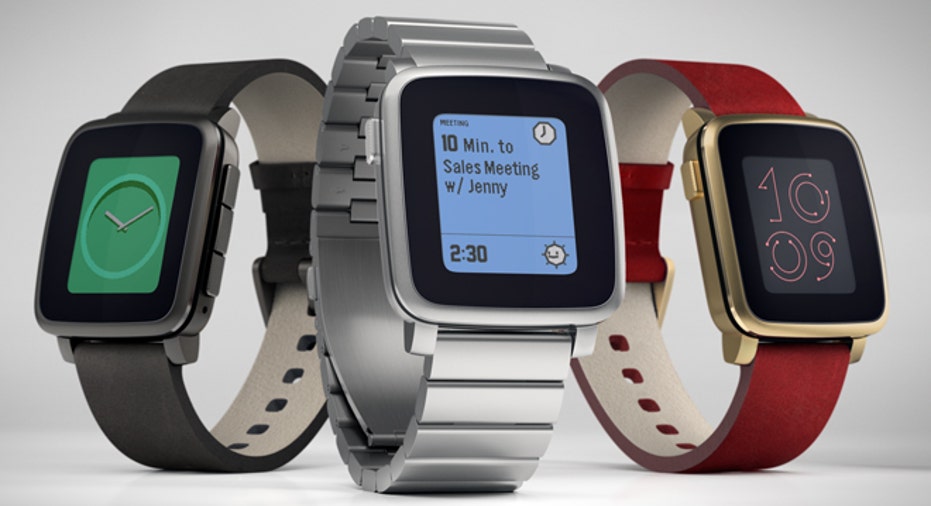 Smartwatch maker Pebble is announcing a new device called Pebble Time Steel. CEO Eric Migicovsky unveiled the new design at the Mobile World Congress in Barcelona. The device will have a battery life of up to ten days, longer than any smartwatch on the market. The lens  is crafted from scratch-resistant Gorilla Glass and includes a leather band with a stainless steel strap. It will ship in July and retail for $299. The Time Steel announcement comes just one week after the debut of Pebble Time, which has raised $12 million on Kickstarter thus far. The company raised just $1 million in the first half hour of its campaign last week, setting a Kickstarter record. "We're focused on doing right by our customers and building a product that they can use every single day," CEO Eric Migicovsky said.
He added Pebble is releasing two watches because of the differences in design. Like the Pebble Time, the Time Steel will first be appearing on Kickstarter at a $50 discount for anyone who participates in the fundraising campaign.  An early pioneer in the smartwatch category, Pebble first came to prominence in 2012 in its first Kickstarter campaign. "The first people to believe in us were our Kickstarter backers" Migicovsky said.
The Pebble team first began working together seven years ago, but until its first campaign,  "we were just five guys working on something that we were passionate about, but really hadn't found that product market fit." Pebble has sold over one million devices so far, but it is also going to be facing increased competition from new Android devices and the Apple (NASDAQ:AAPL) Watch set to debut in April. The majority of Pebble customers are iPhone users. Migicovsky said he is not concerned about Apple Watch, however. Citing Pebble's longer battery life, lower price point, and water resistance, he said that there will still be a market for his devices. The Apple Watch pricing will start at $349 and reportedly cost thousands of dollars for some of the gold devices. Migicovsky also believes that Pebble customers will remain loyal. "We cultivated a community that loves the products that we make and we were able to activate."  He also expects their momentum to continue. "We've sold more Pebbles in the first 18 months than Apple sold iPods in their first 18 months." Pebble works by syncing with Apple and Android (NASDAQ:GOOGL) smartphones and displaying notifications. There is a built-in microphone for voice replies and there are 6,500 available apps.
When asked if Pebble could be acquired or IPO someday, Migicovsky responded it "could be possible."