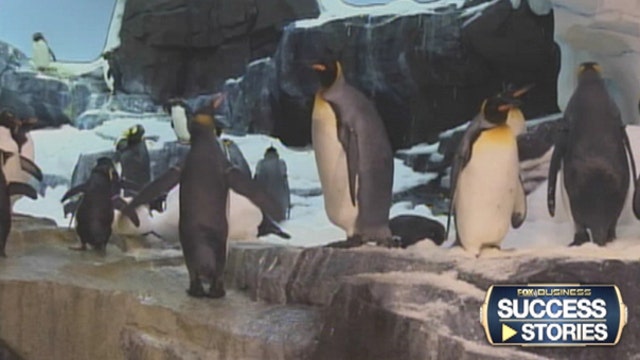 You know the time-worn adages: Work your way to the top. Climb the corporate ladder. Pay your dues. But how many people can actually say they got their start at the bottom of a now public $3.2 billion company they go on to lead from the c-suite? Jim Atchison, SeaWorld's (NYSE:SEAS) chief executive, earned his seat in this elite club decades ago when he started with the company at 18 years of age, working as a parking lot attendant at Busch Gardens Tampa. Whether it was operating rides, working in guest relations or parking cars, what's kept him in the game for nearly three decades isn't the title or the fanfare that comes with the CEO position. It's getting to do what he loves every single day. "I kid that it was a job for beer money in college," Atchison said. "But once I got into the work, I immediately loved it…early on I became more intrigued with the business of the business: retail, culinary, park pricing, marketing, advertising, etc. I was intrigued with the complexity and how all those things work together."
In fact, Atchison takes every opportunity he can to get out of his office and into the parks to interact with those who visit each day.
"I really crave that (interaction)," he said. "…to be involved in the business and get close to the guests, the guest experience, finding out the best things about their day, how they bought their tickets, what their intents are to return…I walk our parks regularly. I spend a lot of time in our parks." A New Kind of Public Display In December of last year, SeaWorld, then owned by private-equity giant Blackstone Group (NYSE:BX), filed its initial paperwork with securities regulators to go public.  Four months later in April, accompanied by some of its world-famous penguins, the company made its public debut on the New York Stock Exchange. Atchison said while the IPO process has an array of variables and many moving parts, it's been an exciting journey for the company – and one of the biggest accomplishments of his career.
"The IPO process was a great stage, a great next chapter for our company. We have a 50-year-old brand. It was a real honor to lead the many people our team represented to tell our stories to investors," he said. While the IPO has been a success for the company -- the stock is up more than 40% since its debut -- there are still challenges Atchison's SeaWorld must overcome in the face of a recovering economy. One of the most challenging, perhaps, is the company's reliance on discretionary dollars from its customers. "We've done very well; the industry's done very well. What we find is that people are resilient. They want to spend time with their families, they want to get out, want to have fun. And as long as we're offering great values and unique opportunities, we're doing just fine," Atchison said.Dolphins, Penguins, and Whales…Oh My! It might seem impossible to have worked around sea animals for more than three decades -- and tote penguins to the New York Stock Exchange for your company's public debut -- and still not be able to pick one animal as your favorite. But Atchison says the task is just plain hard. "It's a little bit like picking a favorite kid," he said. "They're all different and unique in their own ways. So I probably don't have a favorite animal. I find myself just as moved and inspired by one after another." He said one of the greatest advantages SeaWorld has to offer is connecting people with nature and animals in an inspiring, friendly, and educational way. He points to the theme park's newest attraction, Antarctica: Empire of the Penguin as the perfect example. "You ride a one-of-a-kind ride, go through a series of rooms with storytelling where you learn a little bit about a penguin character named Puck, and then exit the ride inside a penguin habitat where you're just a few feet from these amazing animals." He said although he's making important decisions about the structure, functions, and operations about the park and its animals, it's not hard for him to constantly be excited about new experiences and new ways to learn about animals. "I'm very fortunate to have found a line of work where I get to do a lot of those exciting experiences that often," he said.  Advice from the Top Although he's satisfied with the direction his career has gone, Atchison didn't shoot for the CEO position right out of the gate at 18 years old. But it was advice along the way that helped him realize his goals, and set out to achieve them. He said, without a doubt, it was having good mentors who took time to coach him and encourage him along the way. "My best advice for others is to look for people who can be sounding boards and use them judiciously," he said. "Don't be afraid to ask for opinions and advice. You can accelerate the progression through your career if you listen to others who have been there before." While advice from others goes a long way toward building confidence…it all comes down to a work ethic to propel you to the top of an industry. Atchison has a few words of wisdom for those who dream big – the most important thing, he said is to flawlessly execute the job you have now – not look fifteen steps ahead and the job you want in 10 years. "I have never promoted someone who wasn't doing the job they were doing very, very well," he said. "Too often younger people assess the chess game: Who they should align with, what's en vogue, or popular, or high-profile," Finally, Atchison said while it's important to recognize and play off of your strengths, fine-tuning and improving your weaknesses can pay off big time. He goes back to his own life as an example. His undergraduate degree is in marketing, but what inspired him to pursue it as a major wasn't the intrigue of selling products. Instead, it was the desire to improve his weakest link to make him more valuable. "I think there's a lot to be said for shoring up weaknesses in your background," he said. "I did well in finance, and not so well in marketing. But I majored in it because I thought I'd be better, and that more well-rounded background has served me well. If you find yourself missing a skill set, go fill that gap."