Papa John's, Nationwide Celebrate Peyton Manning's NFL Career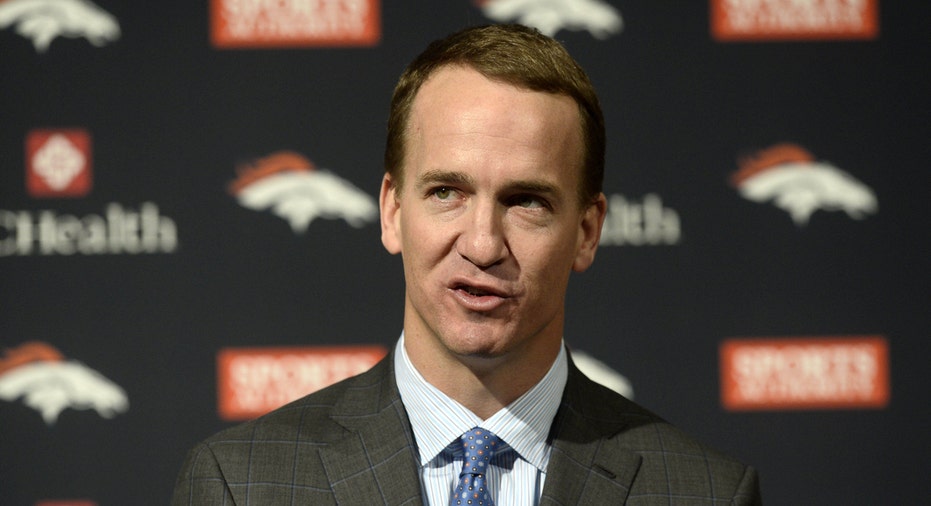 Papa John's Pizza (NASDAQ:PZZA) and Nationwide Insurance publicly congratulated Peyton Manning on Monday after the 39-year-old quarterback announced his retirement from the NFL. Both companies featured Manning in successful national marketing campaigns in recent years and expressed interest in continuing their relationship with him in the future.
"I'm so proud of Peyton and what he's accomplished at the highest level," Papa John's CEO John Schnatter said in a statement to FOXBusiness.com. "He's not only one of the greatest quarterbacks of all time on the field but he's also done incredible things to give back to his community - his generosity is one of the things I admire most about him. He's been and continues to be a great partner of Papa John's.  I'm so fortunate to call him a friend and know the future is bright in whatever path he chooses."
Manning and Papa John's have developed close business ties since he became a brand spokesman in 2011. In addition to regularly appearing alongside Schnatter in commercials, Manning owns more than 30 Papa John's restaurants in the greater Denver area. Schnatter was among the first to embrace Manning on the field at Levi's Stadium last month after his Denver Broncos defeated the Carolina Panthers in Super Bowl 50.
The Kentucky-based pizza chain publicly defended Manning last December after an Al Jazeera America report accused him of having ties to an Indianapolis anti-aging clinic that purportedly distributed performance-enhancing drugs to several top athletes. "It is a shame for all of his [Manning's] hard work, to have one of the greatest comebacks against all odds, that he has to deal with these allegations," a company spokesperson said at the time.
Nationwide features Manning prominently on both its company website and its television ad campaigns. A series of commercials in which Manning hums the "Nationwide is on your side" jingle have garnered hundreds of thousands of views on YouTube and launched countless memes and comments on social media.
"Nationwide would like to congratulate our spokesperson Peyton Manning on a remarkable NFL career," the company said in a statement. "We look forward to continuing to work with him to help meet his financial needs as he begins his retirement."
Aside from his arrangements with Papa John's and Nationwide, Manning has endorsement deals with Nike Inc. (NYSE:NKE), Gatorade (NYSE:PEP) and DirecTV (NYSE:T). Manning led all NFL players with $12 million in endorsement earnings in 2015, according to Forbes. He earned an estimated $150 million off the field during his 18-year career in professional football, as well as nearly $250 million in salary.