Papa John's CEO: In Business, Failure Is an Option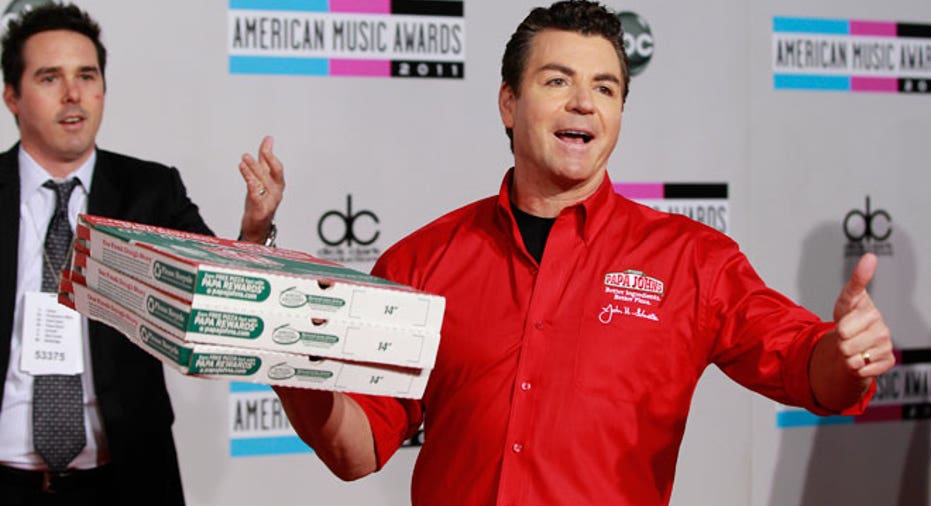 During Small Business Week in May, FOXBusiness.com is running a special Growing Your Business series. Here is expert advice and insight for entrepreneurs from John Schnatter, founder and CEO of Papa John's.
"Contrary to what some people might tell you, failure is an option--and not always a terrible one," said John Schnatter, founder and CEO of Papa John's. "Some of the best ideas can come out of failures. At the heart of every successful entrepreneur is a passion to solve problems. Entrepreneurs see a need in the market, and they step in to fill it. To truly solve a problem in a lasting and impactful way, you need to understand why other solutions won't work and have the ability to adapt to changing environments. By allowing yourself and your team the freedom to fail in the short-term, you will in fact outlast and surpass your competitors over the long-term."
Supporting the freedom to take risks--even to the point of possible failure--is paramount for Schnatter, who started making pizza in a converted broom closet in his father's tavern in Indiana in 1984 with the goal of not just making great-tasting pizza but delivering it to customer's homes. A year later, he opened his first Papa John's. He sold his first franchise (restaurant number nine) in 1986. Today, there are more than 4,800 Papa John's stores in all 50 states and 39 countries and territories, and more than 100,000 employees.
FOXBUSINESS.COM: What are your top tips for small business owners and entrepreneurs?
Schnatter: Customers are your best barometer for quality. Don't be afraid to fail. To grow big, think small.
FOXBUSINESS.COM: What does that mean: "To grow big, think small"?
Schnatter: At Papa John's, we haven't forgotten our roots and continue to operate with a small business mindset, much like a mom-and-pop, independent pizzeria. We run our business as if it's one store, 4,800 times. Often times, when entrepreneurs start to experience success, they lose sight of what made their business successful in the first place. This means putting your customer first, being nimble and surrounding yourself with quality people who are looking for opportunity, not just a paycheck. To truly grow big, keep that small business mindset; you'll set yourself apart from the competition, and the sky's the limit for your success.
FOXBUSINESS.COM: Why should small business owners and entrepreneurs be willing to fail?
Schnatter: Many of humanity's greatest innovations come from what were considered mistakes or failures. At Papa John's, we have instilled a culture of "tinkering" that allows our employees the freedom to take risks and not be afraid of failure. If Papa John's had a dartboard of every mistake you could make, we'd have a full board. But we learn, we course-correct, we move forward, and we are better for it. ...
Too often, I see leaders who don't give their employees the freedom to fail. I'm a firm believer that instilling a culture that encourages tinkering, empowers your people to achieve and encourages them to learn from failure rather than fear it, is critical for attaining long-term success.
FOXBUSINESS.COM: Can you give an example of a miscalculation you have made, and how you turned that into a success?
Schnatter: Absolutely. ... Sometimes you find your best ideas when you're looking for something else. A great example of this was our Sweet Chili pizza sauce. We thought sales would be off the charts, but we were wrong. We ended up stuck with warehouses full of this sauce, so we took a step back, and thought, "How can we turn a negative into a positive?" Instead of throwing the sauce out, we used the principle of optionality to find ways to make it sell. We determined that the sauce could be repurposed by combining it with our chicken wings to create the widely popular Sweet Chili Chicken Wings, proving that even in the face of failure, a successful alternative is somewhere to be found.
FOXBUSINESS.COM: What is one piece of advice entrepreneurs and small business owners should keep in mind every day?
Schnatter: Never forget where you came from, and who got you there. In my current role, my job is to make people's lives better. That includes taking care of my employees and my community, investing in our franchisees and our schools. When people are given tools to succeed, they can do some pretty amazing stuff. You can lay the groundwork for the next success story by supporting entrepreneurs like yourself and using your influence to leave a lasting impact on others.