Papa John's Backs Up Peyton Manning Amid HGH Allegations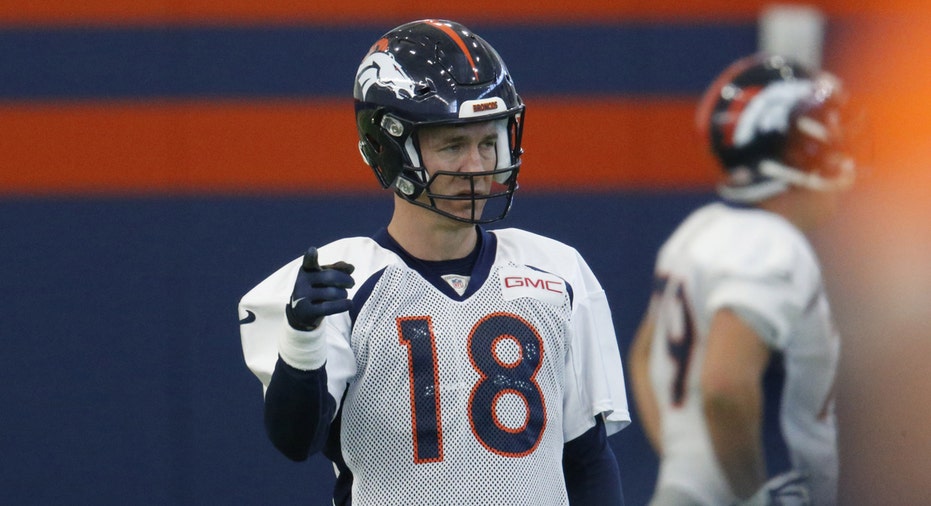 Papa John's Pizza (NASDAQ:PZZA) reiterated its commitment to longtime endorser Peyton Manning on Tuesday, hours after an Al Jazeera report linked the Denver Broncos quarterback to a clinic that purportedly distributed performance-enhancing drugs to several prominent NFL players.
"Papa John's is aware of the speculation. During the course of our relationship, Peyton has represented himself, the game of football and Papa John's with the utmost honor and integrity.  Furthermore he has been a trusted friend.  It is a shame for all his hard work, to have one of the greatest come backs against all odds, that he has to deal with these allegations," a company spokesperson said in a statement.
Manning, 39, has endorsed Papa John's Pizza since 2011 and frequently appears in the brand's television commercials. He also owns more than 20 Papa John's stores, primarily in the greater Denver area, the company confirmed.
An Al Jazeera report entitled "The Dark Side: Secrets of the Sports Dopers," which aired Sunday, December 27, alleged Manning's wife, Ashley, received several shipments of human growth hormone (HGH) from an Indianapolis-based anti-aging clinic known as the Guyer Institute. Manning was recovering from neck surgery at the time.
Charlie Sly, a purported Guyer Institute pharmacist, told an undercover Al Jazeera reporter he supplied Manning's wife with the performance-enhancing drug. Green Bay Packers linebacker Clay Matthews and Pittsburgh Steelers linebacker James Harrison were also implicated in the report. Both men dismissed the claims.
The NFL has banned HGH use since 2011, but it did not begin to test its players for the substance until 2014. Officials are "reviewing" the situation involving Manning, a league spokesman confirmed to FOXBusiness.com.
"Our procedure is to follow up on any information that potentially involves a violation of this nature," NFL spokesman Brian McCarthy said.
Sly later recanted his statements to Al Jazeera and said the network's report regarding the HGH shipments is false. Al Jazeera's Deborah Davies, who narrated the report, told the "Today Show" on Tuesday the network hasn't accused Manning of HGH use, but only that his wife received shipments of the substance.
Manning has staunchly denied that he ever used performance-enhancing drugs.
"The allegation that I would do something like that is complete garbage and is totally made up. It never happened. Never. I really can't believe somebody would put something like this on the air. Whoever said this is making stuff up," Manning said in a statement released by the Broncos.
Aside from his relationship with Papa John's, Manning has major endorsement deals with athletic apparel company Nike (NYSE:NKE), Nationwide Mutual Insurance Co., sports drink manufacturer Gatorade (NYSE:PEP) and broadcast satellite provider DirecTV (NASDAQ:DTV). The companies did not immediately respond to FOXBusiness.com's requests for comment. Manning earns $12 million annually in off-field endorsements, more than any other NFL player, according to Forbes.
The Indianapolis Colts blasted Al Jazeera's report about Manning as "utterly ridiculous," while a statement from the Broncos said the team doesn't find the report to be "credible."