Panera Opens Free-Food, Suggested-Donations-Only Cafes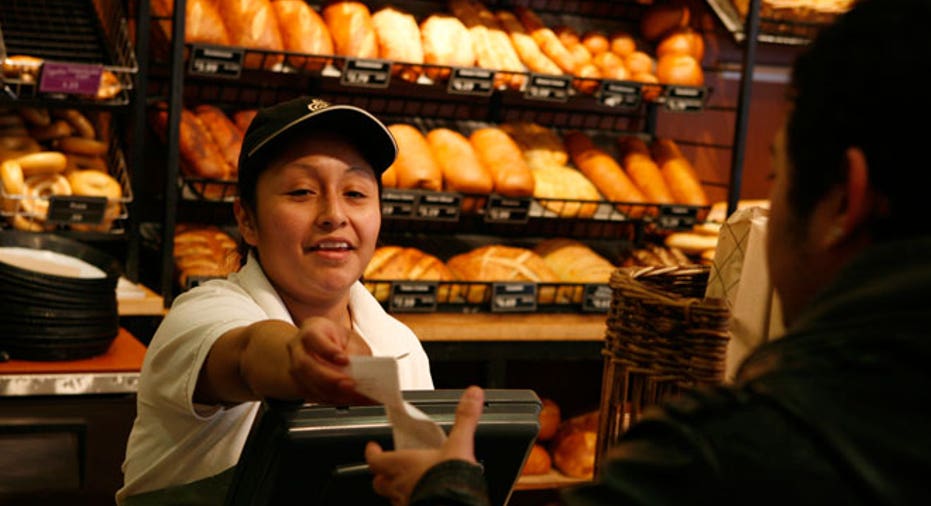 The Panera Bread Foundation has opened a new community café in Boston, which has no cash register or prices, just suggested donations.
Panera Bread Company, which has 1,600 restaurants across the country, opened the café to provide community members with a place to eat whether or not they can afford to pay, according to a release from Ron Shaich, founder, chairman and co-CEO of Panera. The café is one of five of its kind under the brand in the U.S.
The foundation paid close to $1 million to build the café, and will also cover its operating costs, Shaich said.
"Now that the site is open, it's up to the community to sustain it. All consumers have to do is cover its direct operating costs. They do so by donating for their meals and leaving a little bit more if they're able to help cover the costs of the meals of customers who cannot contribute. This is a pay-it-forward model and will only work if the community supports it and one another," he said.
Kate Antonacci, project manager of Panera Cares, said the initiative is an attempt to innovate the corporate model of giving, and see tangible results, rather than just writing a check.
"We realized 50 million people are food insecure, what on earth are they eating?" Antonacci said. "We went to soup kitchens and food pantries, and it is a drastically different experience than walking into a Panera. We wanted to address these issues, but not compromise the Panera experience at all, so it is welcoming and dignified."
The locations have previously been chosen by making existing Panera cafes into Panera Cares cafes, Antonacci said, and the foundation works to open them in diverse locations, so the project may sustain itself. The Boston location was built from scratch.
That being said, customers can't just stroll in for a free meal. The donations listed are suggested, and while some may give more or less, those with no money to offer can volunteer for a meal voucher. Those volunteers may bus tables or wash windows, as a part of the café's "shared responsibility," she said.
"If someone is coming in and can't contribute, they cannot come here seven days a week, for three meals a day," she said. "There is a limit—we are not a soup kitchen and are not about handouts."
Social initiatives work well, so long as they are properly executed, but this is confusing and inconsistent, according to Rob Frankel, branding strategist. Panera's move takes social consciousness to a new level, and it may hurt the business.
"These enterprises are in business for business reasons," he said. "They are not social legislators. I think society has blurred the lines between enterprise and social responsibility."
And for a company like Panera, that is publicly-traded, the store may have shareholders concerned. Frankel said it appears like the company is losing its business vision.
"It's a transparent publicity ploy, and I don't know how they will get around that," he said. "If you are a Ford shareholder, and it started to give away cars to people that can't afford them, would you still want to invest? Given the demeanor and tenor of Wall Street, this gets people scratching their heads."
And that includes consumers, Frankel said. If you are giving away something for free, they may make the mistake of believing your brand has no value, he said.  The number-one thing to keep in mind with branding is that people have no problem paying for a product so long as you give them a reason to. Discounted prices help, especially if a brand is consistent.
"That's why people shop at Nordstrom and Nordstrom Rack," he said. "But to give things away, you are saying to them, 'Yea, we kind of have value, but if you are in this area, you can get it for free.'"
For other small-businesses and franchise brands like Panera, Frankel said it is unlikely the move will prompt a trend. It sends consumers mixed messages, and will have no direct positive impact on bottom lines.
"They will think, 'I am paying retail for a greasy sandwich, and somewhere else there is a guy with the same greasy sandwich, not paying for it. What kind of a dope am I?'" he said.
As for brand confusion, Antonacci said simply, there is none. The Panera Foundation has spent several years researching the model and has deliberately attached its brand to the effort.
"There is a great power that comes with the Panera brand, and attaching the name to a cause like this," she said. "This isn't a PR stunt or experiment for us. It's a sincere effort that is run in a very formalized way."