Pandora Trades Lower as Guidance Misses a Beat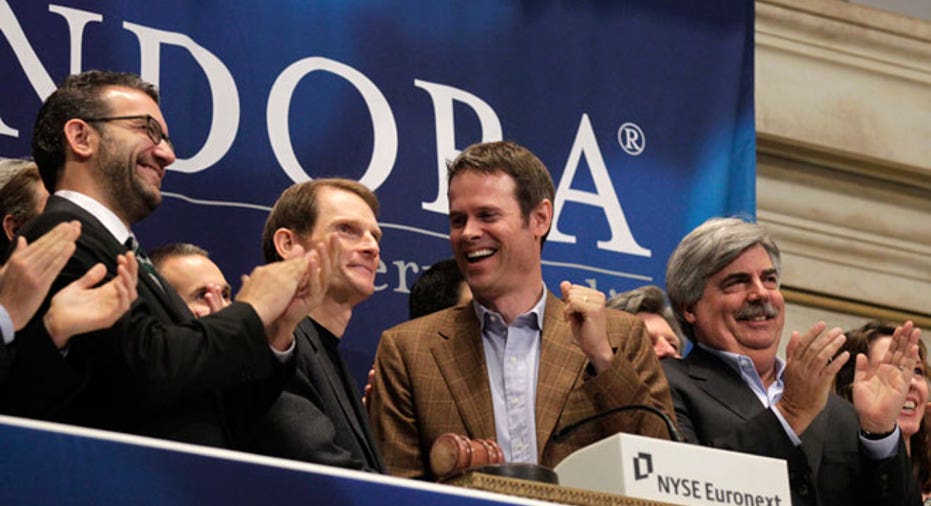 Pandora Media (NYSE:P) slid more than 11% on Thursday, after the Internet radio provider unveiled a disappointing outlook that overshadowed a fourth-quarter beat.
Following Wednesday's closing bell, the company reported a profit of $9 million for the latest quarter, up from $1.6 million in the same period a year earlier. Per-share earnings rose to four cents from a penny.
Adjusted earnings checked in at 11 cents, up from five cents a year ago to beat Wall Street expectations for seven cents. Revenue soared 51% to $200.4 million
Pandora said total listener hours totaled 16.7 billion last year, well ahead of the prior year's 13.51 billion hours.
But that listener growth has strained Pandora's earnings, as increased royalty payments put pressure on the bottom line. The Oakland, Calif.-based company warned on Wednesday that royalties, or content acquisition costs, and marketing expenses will continue to rise.
For the first quarter, Pandora expects a per-share loss of 14 cents to 16 cents and revenue of $170 million to $176 million. Analysts polled by Thomson Reuters recently forecast a loss of 12 cents a share and revenue of $201 million.
Pandora sees full-year earnings of 13 cents to 17 cents a share and revenue of $870 million to $890 million, also short of estimates. Wall Street was looking for guidance of 19 cents a share and $896 million.
J.P. Morgan analyst Doug Anmuth subsequently lowered his price target to $41 from $44 but noted that Pandora's results were in-line with his estimates.
In a research note to clients, Anmuth said he remains bullish on the company given the expectation for continued market share gains, adding that the soft full-year guidance "includes some amount of back-end conservatism." He expects Pandora's 8.6% share of the entire U.S. radio market to further improve.
"We remain positive on Pandora as we believe it is well positioned to take share of the U.S. online display, mobile, and radio ad markets," wrote Anmuth, who maintained an overweight rating for Pandora.
BMO analyst Edward Williams hiked his target price to $40 from $38, saying Pandora will increasingly capitalize on its growing user base and build out its monetization in autos. Last month, the company unveiled plans to launch in-car advertising.
Pandora shares were trading 11.3% lower at $31.80 late Thursday morning.