Panasonic Brings TV Experience to the Indy 500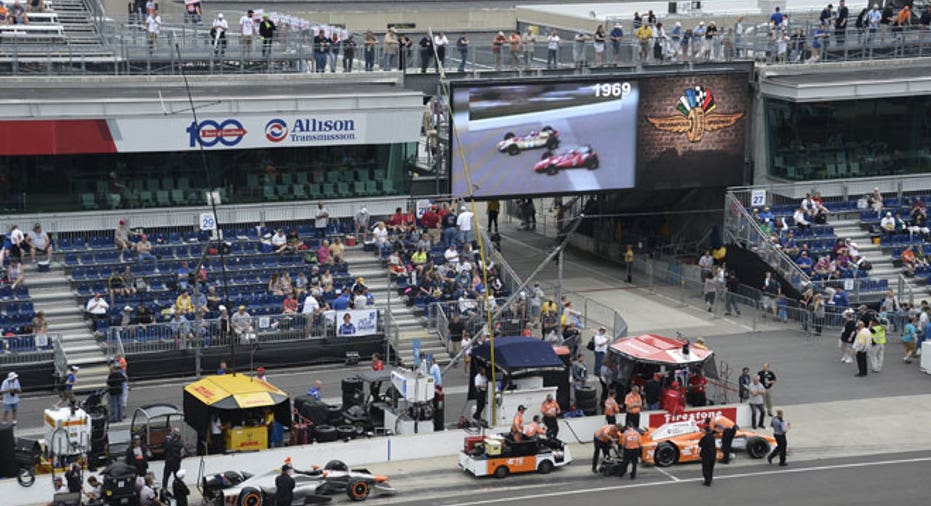 Panasonic and Indianapolis Motor Speedway are revving up the fan experience at the track, just in time for this weekend's Indianapolis 500.
The electronics giant recently completed the installation of 20 high-definition video boards at the famous track. Panasonic Enterprise Solutions said it doubled the size of IMS's old displays, so 98% of spectators now have a clear view of the massive screens.
And that's no small feat. IMS is considered the highest-capacity sports venue in the world with seating for an estimated 257,000 people. The oval track is also expansive at 2.5 miles long.
"The challenge is to take that experience you get at home and bring it to the stadium," said Jim Doyle, president of Panasonic Enterprise Solutions. "Providing unimpeded views makes the whole experience better."
Panasonic began its partnership with IMS last year. In June 2014, it set up a 92-foot-tall scoring pylon that features LED panels on all four sides. The largest HD displays are located in turns one and four. Each one is at least 2,200 square feet.
The renovations are part of "Project 100," a set of major capital investments at IMS totaling $90 million. The track expects to complete the upgrades before the 100th annual Indy 500 next year.
This year's running of the storied race, part of the Verizon IndyCar Series, is scheduled for May 24.
Home vs. Live
IMS's new video boards made their debut May 9 at the Angie's List Grand Prix. Doug Boles, president of Indianapolis Motor Speedway, noticed an interesting phenomenon during the road-course race. With video boards now easily visible from the infield, Boles saw nearly the same number of people watching the race in HD as fans in the grandstands.
"It was amazing to see how many people were sitting on the [viewing] mounds watching on the screen," Boles said. "If we're really trying to compete with the in-home experience, that proved it to me."
There's no doubt, he added, that live events are battling home entertainment.
The onset of high-definition TV and "second screens," such as computers and mobile devices, created new challenges for sports venues. With the home experience improving at a brisk pace, fans became less inclined to purchase tickets.
To summarize: Why slog to the stadium when you can enjoy the game in the comfort of your own home?
That's what many consumers have come to believe, and Doyle acknowledged the company's role in driving the trend. The TV maker recently said its appliances segment booked ¥1.77 trillion ($14.7 billion) in sales during the fiscal year ended March 28.
"The fan experience at live events is challenged by the great job we've done in the electronics industry to make the home experience so great," Doyle said.
But have no fear, sports venues of America. Panasonic Enterprise Solutions is here to help.
Capitalizing on Video
The company has installed massive video boards at a variety of sports, entertainment and commercial venues, including Nasdaq OMX Group's (NASDAQ:NDAQ) MarketSite Tower display in Time Square.
The unit was responsible for Texas Motor Speedway's "Big Hoss TV," which set a Guinness World Record as the world's largest HD LED screen. Big Hoss TV measures 12 stories high with a 20,633-square foot display. TMS is owned by Speedway Motorsports (NYSE:TRK).
For Churchill Downs (NASDAQ:CHDN), home of the Kentucky Derby, Panasonic built the world's largest 4K display so all spectators have a clear view.
Doyle noted how Charlotte Motor Speedway, another Speedway Motorsports property, saw its big screen pay dividends. After the installation of a new HD display, CMS built special suites on the infield.
IMS also capitalized on its LED video boards. Some of the screens replaced old tri-boards, which rotate between three ads. Now IMS can showcase as many messages as it wants, thus boosting ad revenue.
"From an ad standpoint, it's a huge leap into the next generation for us. It's like night and day," Boles said.
Driving Fans to Indy
Panasonic staffs software experts at each race. From a new control room, the production team distributes race data, live video, social media content and weather updates to the network of LED screens.
"Managing a live event, from content to streaming to keeping it all synchronized, it's an exercise," Doyle said.
"At the end of the day, it's all about the fan experience," he added. "Minor league baseball realized that to get people to come, you have to get a richer experience beyond the action on the field. The NFL doesn't need it as much, but average attendance has dropped."
Last summer, Panasonic completed a project for the Philadelphia Eagles at Lincoln Financial Field, installing multiple large videos boards and over 1,200 TVs around the stadium.
"People have such a great experience at home, we've got to help venues bring that into the stadium," Doyle said.
Boles is aware that venues like IMS need to stay ahead of the game, saying the partnership with Panasonic will directly influence fans more than any other Project 100 investment.
"In order for us to compete, we have to give our fans at least some of the home experience when they are at the track," Boles said.
The early results are promising. This year, officials expect Indy 500 ticket sales to increase over 2014.
So has Panasonic's technology compelled more fans to make the trip? "I'd like to believe it has," Doyle said.
Next Step: Mobile
Boles characterized video as the most important way for IMS to engage fans. On average, visitors can see half of the track from their seats. Panasonic's HD screens were a game-changer.
When asked about the future of stadium tech, Panasonic and IMS both identified mobile connectivity as the next step for sports venues. Major League Baseball teams, for instance, have a mobile app that offers ballpark discounts, food menus and real-time game information.
The biggest challenge has been getting the right amount of bandwidth inside stadiums, Doyle explained. IMS said it's working with Verizon Communications (NYSE:VZ), IndyCar's title sponsor, on that front.
But like its video upgrades, IMS sees more challenges ahead.
"We have a 106-year-old facility, and we're trying to put 2015 technology into it," Boles said.