OPEC, Russia see smooth road to global deal on output cut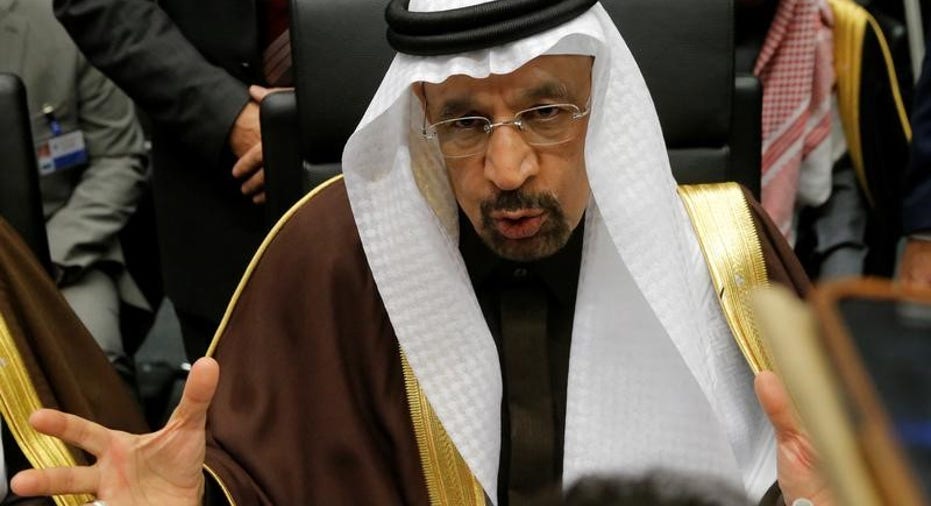 Russia and Saudi Arabia said they expect OPEC and non-OPEC producers to reach an agreement on Saturday to curtail oil output and prop up prices in the first such joint move since 2001.
"We have a deal already. We are just putting the final touches. Everything is good!" Khalid al-Falih, energy minister of OPEC's de facto leader and top oil exporter Saudi Arabia, told reporters.
Russian Energy Minister Alexander Novak, speaking as he joined a breakfast with OPEC and non-OPEC ministers in Vienna, said: "I don't see such risks (of a deal failing)."
The Organization of the Petroleum Exporting Countries began a meeting with producers from outside the group at 0930 GMT, hoping non-OPEC will commit to cutting 600,000 barrels per day after its own members agreed a reduction of 1.2 million bpd last week.
Oil prices have more than halved in the past two years after Saudi Arabia raised output steeply in an attempt to drive higher-cost producers such as U.S. shale firms out of the market.
The plunge in oil to below $50 per barrel - and sometimes even below $30 - from as high as $115 in mid-2014 has helped reduce growth in U.S. shale output.
But it also hit the revenues of oil-dependent economies including Saudi Arabia and Russia, prompting the two largest exporters of crude to start their first oil cooperation talks in 15 years.
OPEC Secretary-General Mohammed Barkindo said he expected 12 non-OPEC countries to sign a declaration with the organisation and fully contribute to cuts of 600,000 bpd or more.
"This is a very historic meeting ... This will boost the global economy and will help some OECD countries to reach their inflation targets," Barkindo told reporters, referring to the Organisation for Economic Cooperation and Development, which groups most of the world's richest economies.
OPEC sources said non-OPEC Azerbaijan, Kazakhstan, Oman, Mexico, Russia, Sudan, South Sudan, Bahrain and Malaysia would attend the meeting. Bolivia may also attend and Barkindo said Brunei had sent its commitments but would not be present.
Many non-OPEC countries such as Mexico and Azerbaijan face a natural drop in oil production and several OPEC ministers going into the breakfast said the discussions would focus on whether those declines should be counted as contributions.
Iraqi Oil Minister Jabar Ali al-Luaibi said non-OPEC contributions should be enough to help stabilise the market.
His Iranian counterpart, Bijan Zanganeh, said non-OPEC would start cutting on Jan. 1 although exact figures had yet to be agreed.
On Friday, Saudi Arabia told its U.S. and European customers it would reduce oil deliveries from January, signalling it had already started implementing cuts.
OPEC producers Iraq, Kuwait and the United Arab Emirates have also told buyers of their crude about planned reductions.
From the non-OPEC camp, so far only top global oil producer Russia and Oman have pledged cuts, with OPEC member Venezuela saying Mexico would also contribute as much as 150,000 bpd.
In contrast, Kazakhstan plans to boost output in 2017 as it launches the long-delayed Kashagan project.
(Writing by Dmitry Zhdannikov; Editing by Dale Hudson and Louise Heavens)