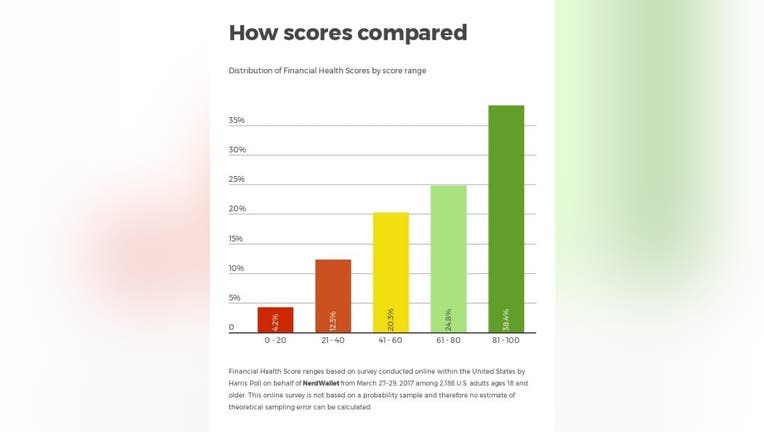 Only 1 in 10 Americans (10.5%) check all the right boxes for financial health, according to a NerdWallet analysis of consumers surveyed on key measures such as retirement savings, emergency funds and protection against financial setbacks.
The March 2017 online survey, commissioned by NerdWallet and conducted by Harris Poll, asked more than 2,000 U.S. adults about eight important components of financial health. NerdWallet weighted the eight questions to produce a financial health score for each person surveyed. A financial health score of 100 would reflect:
Money left over after paying critical bills and living expenses
Three months or more of living expenses saved
Confidence that retirement saving is on track
All or most bills paid on time
Credit card balances always or almost always paid in full each month
Good to excellent credit score
No debt or debt that does not disproportionately affect daily decision making
Enough insurance coverage to protect against major financial loss
The average score among all participants in NerdWallet's survey was 67.9 on a 100-point scale. Of all respondents, 10.5% scored 100 points. (Take the financial health quiz .) 
About 1 in 10 Americans (11%) say they spend more on monthly expenses than their household income allows, and about one-third (32%) say they just make ends meet. Thirty percent of Americans are not saving for retirement, and about one in five (19%) have nothing saved for emergency expenses.
What is financial health?
Financial health means more than just having cash in the bank or an excellent credit score, though those are good indicators. Personal finance experts generally agree that financial health is the ability to manage daily finances, save for the future and weather a financial shock.
Of the eight financial traits identified, the NerdWallet analysis most heavily weighted these three:
Spending less than you earn
Having an emergency fund
Actively saving for retirement
About 12% of Americans scored top marks for all three measures.
Where consumers are falling short
The survey also asked Americans about indicators of financial stress, such as late bill payments or burdensome debt, and factors that would help them weather a financial shock, such as adequate insurance and a good credit score.
Other elements of financial health that need improvement among Americans, according to results from the survey:
Anna Helhoski is a staff writer at NerdWallet, a personal finance website. Email: anna@nerdwallet.com . Twitter: @AnnaHelhoski . For complete survey methodology, including weighting variables, please contact Chris Pappas. Email: cpappas@nerdwallet.com .
The article Only 1 in 10 Americans at Peak Financial Health originally appeared on NerdWallet.