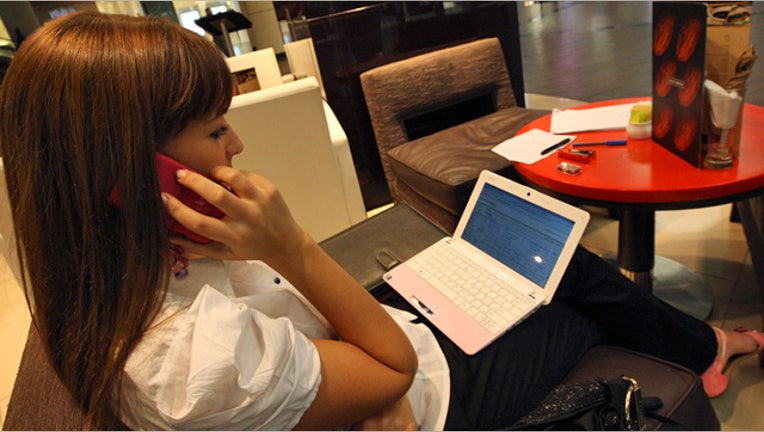 Growing up is tough enough without the worries of your financial future, so Money101  is here for you. E-mail us your questions and let us take off some of the pressure.
The weak job market has many Americans heading back to school to improve their skills or enter a new industry, but instead of returning to campus to get a degree, they're logging on to their computers.
According to a recent study conducted by the Sloan Consortium, 83% of institutions with online offerings expect their online enrollments to increase over the coming year.
In the past, online degree programs were often overlooked and brushed off by employers compared to traditional degrees, but experts say that nowadays, online Master of Business Administration (MBA) and advanced degree programs are just as rigorous and well-respected as paper degrees.
"Sixty-five percent of managers that I surveyed are looking at online education degrees and traditional education degrees as the same now. In the past, there was a stigma with online education,"  says online education consultant, Danielle Babb.
Colleges are recognizing a demand for virtual learning. Prestigious universities such as University of North Carolina-Chapel Hill and Duke University have added online programs to their curriculum choices, and many other schools are following suit. Here's what the experts say is driving the trend and what students should expect before logging on.
Rise of the Virtual Classroom
Schools are now seeing an influx of "non-traditional" students—those who are older, have part-time or full-time jobs and may have families. Instead of leaving their jobs or uprooting their children to move halfway across the country to attend school, online higher-degree programs allow more flexibility and convenience.
"Letting students study online is a way that schools can grow their class sizes and revenue base without having to find physical space for these students"
"Online education really works because of the abilities that people have with access," says Ana-Laura Diaz, an attorney and paralegal professor who is currently working on her MBA in the MBA@UNC program offered by UNC's Kenan-Flagler Business School. "Now that more of these more traditional brick and mortar institutions are getting in on online learning, it's really starting to pick up."
While schools are responding to the hectic schedules of older students, it's a win for them as well. Online classes allows institutions to increase its student body without having to spend on adding new facilities, says Scott Shrum, director of MBA Admissions Research at Veritas Prep.
"Letting students study online is a way that schools can grow their class sizes and revenue base without having to find physical space for these students," he says.
Online Learning vs. Traditional Learning
Many people are returning to school to advance their job prospects and marketability, which often means huge schedule and lifestyle changes.
"We have four careers in our lifetime on average and often in order to change careers, you need to have the degree in that particular new field but you can't leave your old life behind in the process," says Babb. "Most of us [as] adults can't just decide we're not going to pay our bills tomorrow and start going to school for four years and not feed our families."
For students who are put off by virtual learning over worries it's remote and impersonal, Diaz explains that creating relationships with professors online is not that much different than interacting with them in the lecture hall.
"All of our professors are as accessible as if we were on campus as traditional students; anything from sending an email that they reply to incredibly promptly, to calling them up, to setting up virtual office hours where I'm actually looking at my professor," says Diaz. "You're not really losing anything--it really does mimic the experience."
What Students Should Consider
The first thing prospective online students should do is make sure a school is accredited. Many schools are nationally accredited, but Babb recommends looking into regional accreditation for students who might transfer at some point.
Students should have a firm grasp on what their learning style is before deciding on a program. Some programs are synchronous, meaning students have to follow a schedule to be simultaneously online with a professor for live chats, while others are asynchronous, where students have more flexibility with how they plan out their time.
As with more traditional universities, students can look into federal financial aid, scholarships, and grants to help pay for online schooling, says Doug Shackelford, associate dean of MBA@UNC  Some schools may even offer self-financing, where the university bills the student by quarter or semester, usually at no interest.
Despite the fact that students will be learning in an online forum, much of the curriculum is formatted the same as in-person lectures. In fact, Babb explains that online students may be writing more than traditional students.
"The students really have to hone their writing skills and their ability to articulate in an online format," she says. "When they're done with their programs, a lot of their employers are finding that it's a huge benefit to the company because they are able to articulate more clearly in writing, they're earning promotions, and they're being looked at as the go to expert in their field."
Unlike traditional alumni associations, students seeking online degrees will have to solely rely on social and professional networks to stay connected with their classmates.
"With [these networks], they're able to help one another and find positions, even those who don't have on ground contact," says Babb.
Although the curriculum may be easier to access, students can rest assured that they will still have to work and study very hard to reach their goal, says Diaz.
"One of the big things to take a look at is if you have the self discipline to really dedicate to the program--this is a serious MBA program and a world class education that you're getting," she says. "It's not an easy commitment, but I think that what you get out of it is most definitely worth what you put into it."
The experts suggest that as technology in universities progresses and students are looking for more outlets to earn advanced degrees, students will be seeing a lot more online and virtual options.
"We're at the front of a wave that's going to transform education—this will not be unusual at all in five years," says Shackelford. "I think it's like a lot of things in the technology world; the world is changing rapidly and education is going to [follow]."