One Year After Sandy, Businesses Still Searching for Normal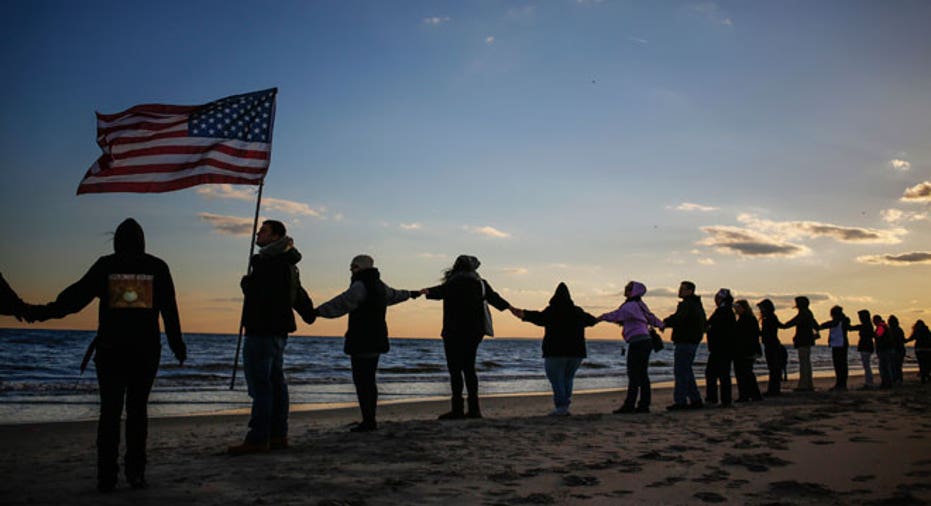 On the first anniversary of Superstorm Sandy, some small businesses are looking to the future, while others are still trying to pick up the pieces from the storm.
In a blog post published on Monday, the White House said the U.S. government has provided direct assistance to more than 230,000 people and small businesses in the form of FEMA and SBA grants and loans, as well as employment efforts by the Department of Labor. The administration has announced more than $39.7 billion in funding for those affected by the storm; approximately a third of that money has already been paid out. In particular, the SBA has given out loans totaling more than $2.4 billion to individuals and small business owners.
For many small business owners, however, getting the funding necessary to rebuild has been a frustrating process, as insurance companies use policy loopholes to avoid paying customers affected by the storm.
Last week, Grenville Inn owner Renee Typaldos spoke to FOXBusiness.com as a claims adjuster was going through the Bay Head, New Jersey hotel. Typaldos says she's still arguing with her insurance company regarding claims and payments.
"We've had tremendous damage. Every day we discover one more thing that's gone and went through the storm," says Typaldos.
Paying for the Damage
Typaldos' hotel was closed for ninety days after the storm; she says three mortgage payments went to electrical work necessary to reopen. While she says she received some insurance money early on, she has paid nearly a quarter of a million dollars in repairs thus far – and construction isn't over yet.
Given that Typaldos had insurance covering flood damage and other types of insurance, she is disappointed in the way she's been treated by her insurance company.
"It wasn't our fault. We were victims, and we're suffering the consequences," says Typaldos.
Mark Pinsky, president and CEO of the Opportunity Finance Network, which oversees a nationwide network of community lenders, says recovery efforts were made more difficult due to lingering issues from the recession.
"The recession continues to create tight credit situations for small businesses," says Pinsky. Combined with difficulty in accessing government grants and loans, Pinsky says many in the region have reached out to community lenders, which are non-regulated entities able to be more flexible than banks or credit unions.
"It's critical when dealing with distressed or stressed markets," says Pinsky.
He says the majority of loans given out by participating members of the Opportunity Finance Network fall in the $50,000 to $250,000 range. Marie Mascherin of New Jersey Community Capital, a member of Opportunity Finance Network, says infrastructure has been crucial in determining a town's fate.
"It depends on how organized the local community is … Some communities are proactive and other communities it's a challenge, because they continue to wait for grants, which are not a major part of any type of recovery program," says Mascherin.
Success Stories
Despite the challenges many faced in accessing capital or receiving government loans, some businesses persevered in getting money to rebuild – and are even flourishing, just one year post-Sandy.
Mike Sodano opened the first independent movie theater in Asbury Park, New Jersey in 2009. When the storm hit, Sodano and his staff of five were in the process of expanding to a larger location.
"We were spared [destruction], but unfortunately what it did was postpone opening by about four weeks, and then the audience disappeared," says Sodano. With no source of income for a month and then a slow trickle of moviegoers as the city began to recover, Sodano turned to New Jersey Community Capital, a community development financial institution belonging to the Opportunity Finance Network.
"I had heard the issues some of my fellow peers were going through with getting insurance money and government assistance," says Sodano, who took out a $30,000 loan.
Sodano says nearly all of the town's residents who were evacuated have come back.
"We're back to where we were hoping we would be. People realized the city is back to where it was, and we've got people coming back to town," he says.
In the Manhattan neighborhood of Tribeca, small business owner Lars Akerlund was also putting the finishing touches on an expansion last October, getting ready to open the flagship location of Fika, his small chain of chocolate shops. Then, the storm hit.
"Everything was destroyed," says Akerlund, including interiors, machinery and equipment, and inventory. Losses totaled $600,000 at the downtown location, and uptown, Fika was closed for a period of time due to electrical outages.
"I wasn't stressed out when I saw the damages," says Akerlund, who felt secure thanks to extensive insurance policies. Then the insurance company said they wouldn't pay out, because the flooding came from the ocean, rather than a burst pipe or rain.
"I really panicked then – the first thought went to our [30] employees," he says.
As he racked up $150,000 on credit cards, Akerlund started the application for SBA loans. While he admits the process was long, and he understands others' frustration, he says he wouldn't be here today without the SBA, which gave him a $550,000, 30-year loan.
While construction took nearly five months, Akerlund says Fika is back and now better than ever.
"I try not to brag too much, but we're opening up six new stores and employing almost 50 new people in the next year," says Akerlund.
Turning to the Community
No matter their current state, the small business owners say the experience taught them the value of community and opened their eyes to the kindness of neighbors.
"We're lucky we're alive and able to renew – that's the most important," says Typaldos, who attended a Sandy anniversary 5K run over the weekend held by the church in her town that helped feed people during the storm.
"You met your neighbor you might not have known," says Typaldos.
Sodano agrees, looking back one year ago to when he was sitting in a Wegman's grocery store, trying to access WiFi.
"It was a bit of a grim time, but being with your neighbors and fellow businesspeople … that camaraderie got us through it all," says Sodano.
Akerlund says Sandy opened his eyes to the spirit of New York.
"I'm amazed … I'm from Sweden, and you can say whatever you want about New York, but when the s*** hits the fan, people come together. We have proof of that from 9/11 or any big disaster," says Akerlund. He says he was amazed that customers and suppliers reached out to offer their support and help – even his landlord allowed him to delay payments until he could get the business up and running.
And all the business owners agree that flood risk or not, leaving their neighborhoods wasn't an option on the table.
"This has been my dream … to close our doors was never on my mind," says Akerlund.