On-Demand, Anti-Meeting Video Software: Meet Movy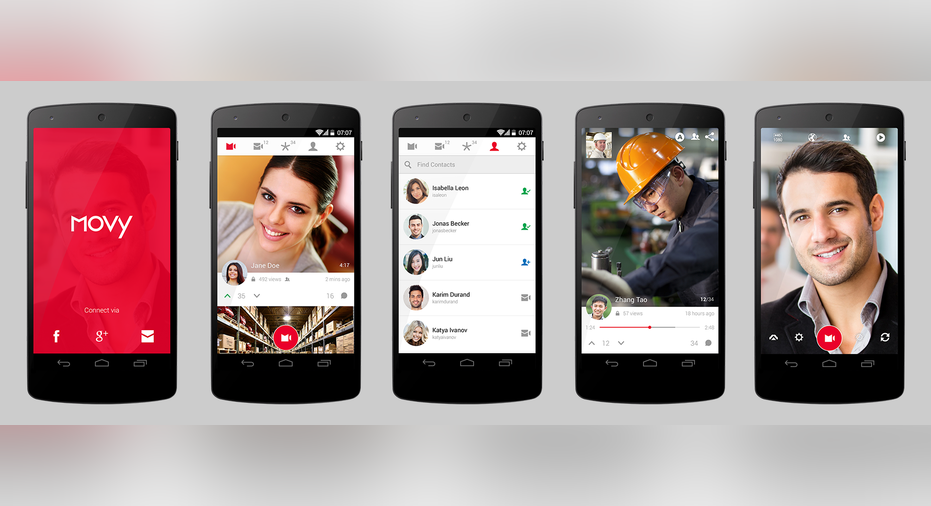 Small Business Spotlight: Movy, @movystream
Who: Christopher Joyce, CEO of Joyce business syndication, along with a "small group of core individuals with a big idea."
What: In January 2013, the team at Joyce ran into a communications problem: Trying to coordinate schedules of employees not just across the country, but all over the world, was difficult. They came up with the idea for a system that allowed the team to verbally communicate and chime into a conversation on an on-demand basis through video, rather than waste days trying to coordinate team schedules.
The team built the system for internal use, and realized they'd stumbled on something worth taking mainstream.
"It saved on time. Employees could pop into conversations and have the full context no matter what time it was. Instead of sitting in a boring meeting, you could do it at your own pace. It amped up the business communication, and made it go much faster," Joyce said.
When: The idea was conceptualized at the start of 2013, and taken full-scale this year.
Where: Joyce Co. is based in Wilmington, Delaware – the app, Movy, launched in the Google Play store and, according to Joyce, will soon be available via Apple iTunes App Store.
How: The idea behind the app was if the employees at Joyce were experiencing a scheduling problem, chances were, many other companies with global offices were up against the same kind of challenges.
"We put Movy on the market, and in the last couple of months, we've reached 140 countries, and we're approaching 50,000 users," Joyce said. "We grew 300% in the last couple of months alone."
Biggest challenge: Joyce said the biggest hurdle so far has been starting an app that had to utilize an existing hardware system.
"Making our product compatible with Android was difficult since we had to make it work with more than 10,000 active devices," he said. "When you're doing this kind of app, unlike something like Uber or Airbnb, those are interface apps that are overlaid on a browser. Ours is a hardware-based system."
One moment in time: For the group that started Movy, the most memorable part of the entire experience has been seeing growth accelerate on an idea that was never supposed to be something more than an internal messaging system.
"You can look at it as the user count ticks on my screen," Joyce said. "In the beginning, you'd get one or two every half hour or so. Now it's spiking quickly. Seeing users added all over the globe in countries I didn't know existed is really cool."
He added another "cool" side effect that he didn't foresee is seeing deaf users be able to use the platform to communicate with other deaf users. Joyce said for tonal languages and sign language, it's difficult to convey tone and emotion. But videos allow more expression to be used in the communication process, since users are actually able to see other users.
Best business advice: Joyce says the team at Movy is constantly inspired by Winston Churchill. Walk into their offices, he says, and you'll see quotes from the late British politician like: "Never, never, never give up."
"It sounds crazy, but we do a lot of quoting from Winston Churchill," Joyce said. "The 'never, never, never give up' quote is the basis for starting a business."