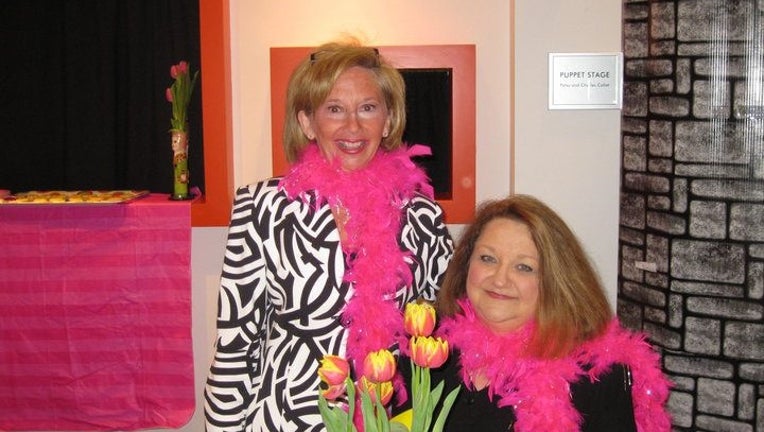 Competition for college admission isn't the only thing that's heating up university campuses these days—acceptance into social sororities has reached a new level of importance. In order to get through "rush"—the  week-long acceptance process for sororities nationwide—many parents have begun hiring recruitment counselors or image consultants to help guide their daughters through the process.
In Birmingham, Alabama, high school women looking to find out more about Greek life can go to Rushbiddies, a consultancy founded in 2009 by Pat Grant Marlea Foster. Rushbiddies charges $25 per hour for one-on-one time, or $200 for a 2-day workshop.
"At first glance, this may come off as very frivolous, but for many young women, rush is an important rite of passage," says Grant. "A lot of schools in the South have gotten very big, and joining a sorority is a wonderful way to find a small group of friends and navigate being away from home for the first time."
Grant says that the average Rushbiddies client is a mother without a Greek background who has a daughter who wants to go through rush. On occasion, Grant says that a mother will sign up her daughter—but the daughter doesn't want to attend. In that case, moms are welcome to attend solo and impart what they learn to their daughters at a later date. Other times, young women sign themselves up for a workshop where they can network with other prospective Greek women.
As for the increased interest in rush consultants, Grant says that people are "catching on" that sororities are a "wonderful place to plug in on campus," and parents see the importance in prepping their daughters with interview and presentation skills before sending them off to college.
"For many young women, this is the first time they're learning networking skills," says Grant. "We help them write a professional resume, we encourage them to get involved in their community, and we give them conversation skills. Some of them don't know that good small talk does not include old boyfriends."
Samantha von Sperling, owner and image consultant at New York's "Polished," got her start as an image coach for CEOs, diplomats, and professionals. She says that although her sorority clients differ greatly from her CEO clients, the message she imparts is the same.
"I help them understand the person they want to be, and I give them the tools to sell that persona on the outside," says von Sperling, who charges $300 an hour for her coaching services.
"I've gotten a lot of negative attention from people who say you don't need a $300 an hour coach to get into a sorority," she says. "But whatever. There's no such thing as bad press."
Von Sperling says that the trend in rush consultants is a culmination of the attention surrounding other life milestones, such as coming out parties, sweet 16 parties, quinceaneras, and bar mitzvahs. Today, parents are putting more emphasis on how their children look and act at a younger age. The hiring of a consultant who can prep and groom a teen for their important events is simply a natural progression, she says.
"Most teenage girls can text and tweet, but they don't have the ability to have a face to face conversation," says von Sperling. "They don't understand the importance of eye contact, body language, and nonverbal communication skills, and they have to learn that. Parents used to send their children to charm school, but now those don't exist anymore."
Rachel Lewis, founder and President of sorority consultancy Sorority Corner in Kansas City, MO, says that she doesn't try to tweak a young woman's image before rush—she just helps them to better understand the rush process.
"We see it as getting ready for a job interview four years early," says Lewis, who launched her company just six months ago. "We do address the concept of image, but only because it's important in life. If you think you're walking into any place—a job interview, an internship, a college interview—and you aren't being judged on the way you're presenting yourself, you are kidding yourself."
Lewis, who charges around $50 an hour for one-on-one coaching time, says that business so far this year has exceeded expectations, and she plans to start webinars and group classes soon.
Although it's clear that the concept of a rush consultant is growing in popularity, Nicki Meneley, Executive Director of the National Panhellenic Conference (NPC), the governing body of 26 international sororities, says that the NPC in no way endorses, recognizes or certifies recruitment counselors.
"We believe this is not a wise investment," says Meneley. "This kind of recruitment preparation is not required for women seeking potential sorority membership in college. While some women may feel the need to prepare, just as they would for a job interview, finding the right fit with a sorority does not require makeup tips or advice on the right clothes to wear."
Meneley says that although the NPC has not yet received any complaints from members regarding rush consultants, they are monitoring the situation.
"If women choose to pursue such an option, then the same rules apply as in any other new service out on the market – caveat emptor or buyer beware," Meneley says. "There is no group or organization that certifies, endorses or accredits these kinds of services – so you won't find these businesses on Angie's List or affiliated with the Better Business Bureau."
More than 4 million women are currently enrolled in sororities at 655 university campuses worldwide, according to the NPC, and at the end of the day, this may be the main reason why consultants are being brought on to guide young women through, says von Sperling.
"The competition to get into sororities is tougher than it ever was," she says. "People are looking for lifelong friendships. Parents know that if they're looking to provide a support group of like-minded young women for their daughters, this is a good investment."