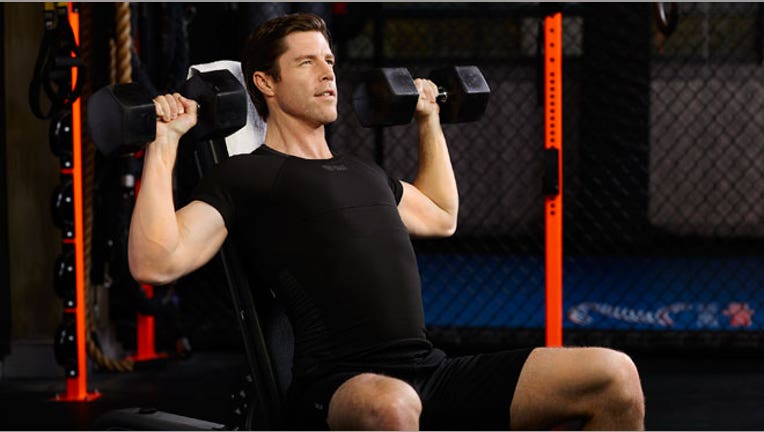 Startup OMsignal wants to set the early pace in wearable technology as it begins taking online orders today for its inaugural line of biometric workout gear.
The Montreal-based firm promises delivery "in summer" for its four different models for men (the women's line is slated for a fall release).
OMsignal claims the shirts are as fashion- and fit-forward as any breathable, odor-resistant, water-wicking athletic gear on the market with the added bonus of literally tracking your every move, as well as every breath you take.
"Textiles are the hardware -- organic hardware.  It's technology that helps you connect with yourself to improve yourself and your performance," OMsignal co-founder and CEO Stéphane Marceau asserts in an interview, adding, "You can see (from the biometric data) if it's a good day to push yourself at the gym…it's geared to performance, fitness, and self-mastery."
The overall concept and the company's name were inspired by yoga. Marceau's wife, Josée, borrowed the "ommmm" sound from her yoga practice to coin the company's name.
Here's how it works: the form-fitting workout and undershirts use special thread that delivers readings to a data recorder attached to the shirt which then transmits via Bluetooth to Apple's (NASDAQ:AAPL) iOS devices (iPhone 4S and newer models as well as the 5th generation iPod Touch).  The company says an Android version is in the works.  Investor-partner Flextronics (NASDAQ:FLEX) makes the little black box data recorder.
Marceau says the machine-washable shirts do not have to be worn in any special way with sensors touching certain areas of the upper body.  The apparel has not yet been released for demo, but it purportedly tracks calories burned, steps taken, and even your physiological stress-level.  And there's a sports mode for custom goals and bespoke workout plans.
These types of features have proven to be popular in this rapidly expanding and evolving marketplace on tracking devices made by upstarts Fitbit, Jawbone, and Pebble as well as wearable tech pioneer Nike, which has reportedly just cut staff in its digital division behind the FuelBand. Analysts dispute the size of the overall wearable tech market, but most agree it's in its infancy and will grow exponentially to multi-billions of dollars over the coming decade.
The OMsignal shirts also claim to have battery life of 30 hours plus some features that would differentiate the apparel from tracking devices:  capturing an electrocardiogram (ECG) with an accurate heart rate (BPM) and heart rate variability (HRV).
"The heart rate variability will tell you if you are stressed, it will suggest that you breathe slower and exhale more," Marceau explains, adding with a laugh, "I'm a Type-A person and need to exhale more often."
The CEO says other Type-A technophiles and fitness buffs are the target consumers for these shirts which run $199 for the first one (rising to $240 after the first month), including the black box data recorder; additional shirts are $99.  The companion app is a free download from the Apple App Store and additional little black data boxes cost $140.
Some observers balk at that relatively high barrier to entry.  "At that price point, it better be delivering some pretty spectacular results to help me monitor my health," says Michael Sherrod, an active investor in companies who is currently Entrepreneur-in-Residence at Texas Christian University.  "I think for that price you'll get early adopters.  The question is: will you get beyond the 4%-5% early adopters and cross the chasm into the big market, the 33%-40% who will buy?"
Out of the gate, OMsignal literally wants to make its name on the backs of early adopters for whom cost will not be an issue.  These people are influential with their peers and may also hold sway working for potential partners interested in licensing OMsignal's technology.
Marceau says once their line of shirts is launched, the company plans to reach critical mass by "enabling top brands that will bring the design with OM inside as the platform in the cloud."
The CEO says they have been approached by some household-name companies, though he declined to say which ones or even what industry they are in.  So if they have outside interest already, why bother launching an expensive eponymous label?  "We're taking it to the consumer to control the first step," Marceau says.  "This category doesn't exist, so we want to tell the story.  We want direct contact with the consumer before we scale it with global brands."