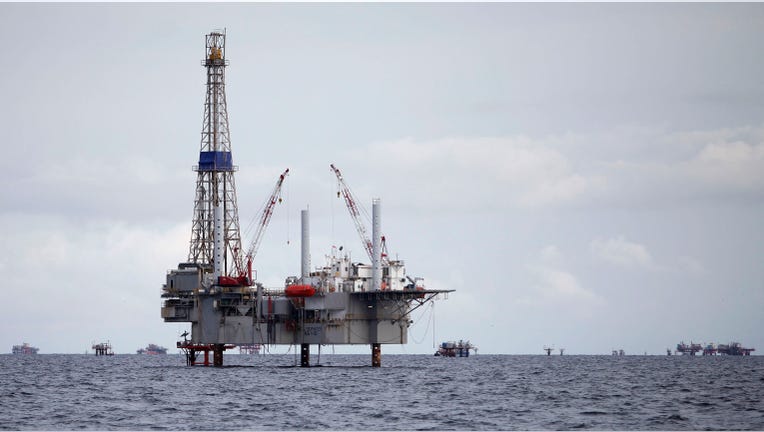 U.S. oil prices pared losses but stayed lower Thursday after weekly inventory data showed a drop in crude supplies but an unexpectedly large increase in production.
Light, sweet oil for July delivery recently fell 16 cents, or 0.3%, to $57.35 a barrel on the New York Mercantile Exchange.
Brent, the global benchmark, traded up 40 cents, or 0.6%, at $62.46 a barrel on ICE Futures Europe.
U.S. commercial crude-oil supplies fell by 2.8 million barrels in the week ended May 22, the U.S. Energy Information Administration said. Analysts surveyed by The Wall Street Journal had expected a drop of 1.1 million barrels.
The EIA also reported that U.S. crude-oil production rose by 304,000 barrels a day last week to 9.57 million barrels a day, the highest level in weekly data going back to 1983. In monthly data, which don't exactly line up with weekly data, production last exceeded this level in 1972.
Oil prices have rallied in recent weeks on expectations that sharp cutbacks in new drilling would lead to a decline in production. The number of rigs drilling for oil in the U.S. has plummeted since the start of the year. But the pace of declines has slowed in the past few weeks, and some analysts say the rig count is likely near a trough.
"This does not bode well for the price of crude," said Bill Baruch, senior market strategist at brokerage iiTrader in Chicago. "At $60 and above, these producers...were able to turn back on."
The EIA's weekly production numbers are largely based on a forecasting model, but the agency says they tend to be accurate within 100,000 barrels a day.
"The week numbers are tough to get your arms around," said Bill O'Grady, chief market strategist at Confluence Investment Management. "But I don't think production's going down all that much, despite the big drop-off in rig counts."
The U.S. added 600,000 barrels of crude oil to its strategic petroleum reserve in the week. The Energy Department in March announced plans to buy as many as five million barrels of oil for the reserve to replace the amount of oil it sold from the reserve in 2014.
Gasoline inventories fell more than expected, by 3.3 million barrels to the lowest level since December. Traders are watching gasoline stockpiles for signs of how much fuel was consumed during the Memorial Day holiday weekend, which was expected to be a busy time for road trips. Memorial Day is considered the start of the summer-driving season.
"I expect you're going to end up having a pretty decent vacation season this year," Mr. O'Grady said.
Gasoline futures recently rose 1.4% to $1.9714 a gallon.
Distillate stocks, which include heating oil and diesel fuel, rose 1.1 million barrels. Analysts had expected a 400,000-barrel weekly decrease.
Diesel futures recently traded up 0.5% to $1.8666 a gallon.