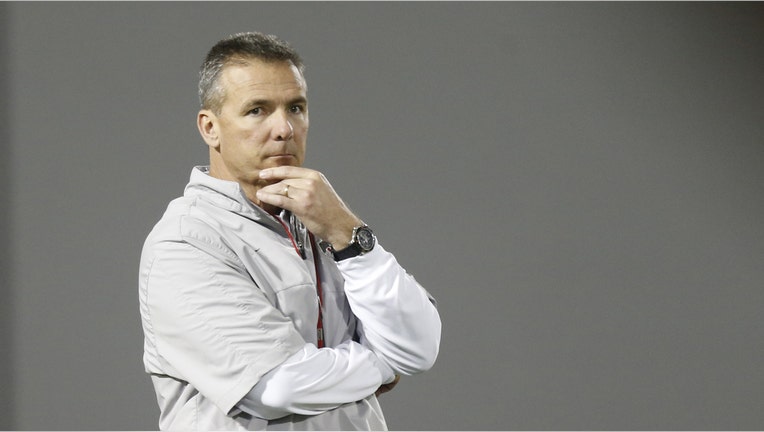 Ohio Governor and Republican presidential hopeful John Kasich will enter his home state's primary on March 15 with the public support of Urban Meyer, Ohio State University's head football coach. Meyer, who led the Buckeyes to a national championship in 2014, endorsed Kasich in a video posted to the GOP candidate's social media accounts on Thursday.
Meyer said he first met Kasich four years ago, when the governor invited him and his wife, Shelley, to dinner shortly after he accepted the coaching job at Ohio State.
"Shelley and I would like to tell you and Karen [Kasich] that the leadership that you've shown the state of Ohio since we've been back, and even before, your friendship, as a friend and as a true supporter of what you stand for, we'd like to tell you that we wish the guys the best," Meyer told Kasich in the endorsement video. "Go win this darn thing."
Meyer is an immensely popular figure on Ohio's local sports scene. Born in Toledo, Meyer served as head coach at Bowling Green State University from 2001 to 2002 and returned to his home state in 2012 to coach the Buckeyes.
A June 2015 Public Policy Polling survey found that 85% of OSU fans approved of the job Meyer was doing as the football team's head coach. In addition, 30% of fans ranked Meyer as the best coach the Buckeyes have had since 1950, second only to Ohio State legend Woody Haves (35%). Of those who ranked Meyer as the university's best coach, 28% described their political viewpoints as "somewhat conservative" and 35% described them as "very conservative."
The Ohio primary is considered a must-win vote for Kasich in his quest to catch up to GOP frontunner Donald Trump. A March 9 Fox News poll gave Kasich a projected edge of 34%, compared to 29% for Trump, 19% for Ted Cruz and 7% for Marco Rubio.