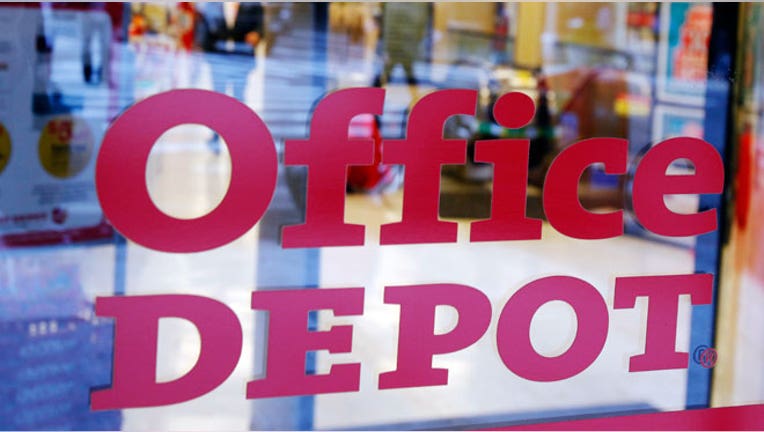 Office Depot (NYSE:ODP) reported a wider loss in the fourth quarter amid weaker margins and expenses stemming from its merger with OfficeMax.
The office supply retailer said Tuesday its loss grew to $144 million, or 34 cents a share, compared to a $17 million loss, or six cents a share, in the year-ago period. Excluding one-time items such as merger costs, Office Depot's adjusted loss was three cents versus breakeven results a year earlier.
Office Depot completed its merger with OfficeMax late last year, wrapping up a $1.2 billion deal. Since the transaction closed on Nov. 5, OfficeMax contributed $939 million in sales. However, merger costs and other operating expenses increased to $111 million from $12 million.
Total revenue jumped 33% to $3.49 billion. Without OfficeMax, sales would have fallen 2.9%. Gross margin fell to 22.6% from 23.1%.
Analysts recently projected higher revenue of $4.03 billion and a per-share profit of three cents.
The Boca Raton, Fla.-based company, which appointed turnaround veteran Roland Smith as CEO in November, also raised its forecast for merger-related cost savings to more than $600 million by the end of 2016.
Smith said Office Depot expects to complete a "comprehensive reorganization" of the company by the end of February.
"With our leadership team now in place, we have moved quickly to establish a lean organizational structure with the best talent from across the legacy businesses as well as adding new external leadership," he added.
With the surprise per-share loss, shares of Office Depot tumbled 13.2% to $4.64 in early morning trading. Through Monday, the stock outpaced the broader S&P 500 over the last six months with a 30.5% gain.