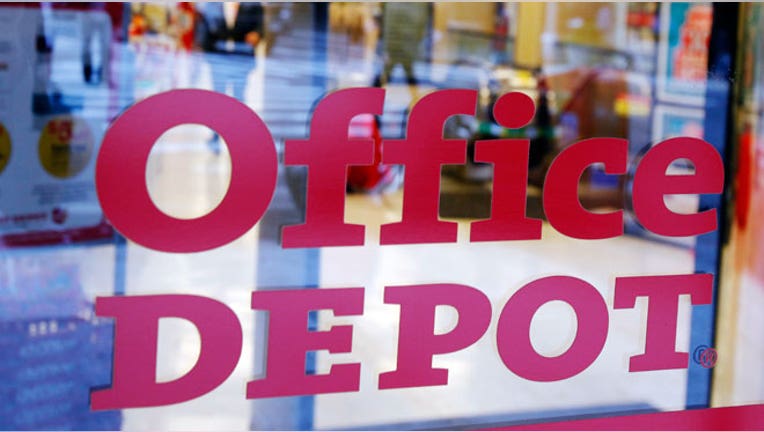 Office Depot (NYSE:ODP) booked a wider loss in the first quarter even as sales rocketed 60% higher with the addition of OfficeMax, while the office supply retailer also unveiled plans to close at least 400 U.S. stores.
Shares rose sharply after the news, leaping 17.5% to $4.90 in recent trading on Tuesday.
The company reported a loss of $109 million, or 21 cents a share, compared to a loss of $17 million, or six cents a share, in the same period a year earlier.
Excluding merger expenses and other items, adjusted per-share earnings checked in at seven cents. Analysts expected a profit of three cents a share.
Office Depot said revenue was $4.35 billion, beating Wall Street's consensus estimate of $4.28 billion. On a pro-forma basis, which uses combined sales for Office Depot and OfficeMax in the comparable quarter, revenue was down 3% year-over-year.
Office Depot, which completed its acquisition of smaller rival OfficeMax in November, was expected to shutter stores following the deal since the two retail chains have many stores in close proximity to one another.
Rival office supply chain Staples (NASDAQ:SPLS) also anticipates closing some of its brick-and-mortar locations. Staples, whose e-commerce operations account for nearly half of total sales, plans to eliminate 225 North American stores by the end of next year.
Office Depot said it plans to close 150 stores in 2014 and expects savings of more than $75 million by the end of 2016. The move will contribute to earnings starting in 2015, the company added.
In February, Boca Raton, Fla.-based Office Depot warned its sales would likely stumble this year. Office supply chains have come under pressure from increasing competition, both online and from larger retailers like Wal-Mart Stores (NYSE:WMT).
Roland Smith, chairman and CEO of Office Depot, said sales trends improved as the first quarter progressed, rebounding from "a weather-challenged start to the year."
North America sales rose 58% to $1.81 billion, despite a 3% drop in same-store sales for Office Depot. The business solutions division logged sales of $1.54 billion, an 89% gain.
The company also raised its 2014 outlook for adjusted operating income of at least $160 million, up from a prior view of $140 million. Smith said Office Depot is delivering on merger synergies quicker than expected.