Office Depot, OfficeMax Merger Waiting on FTC Approval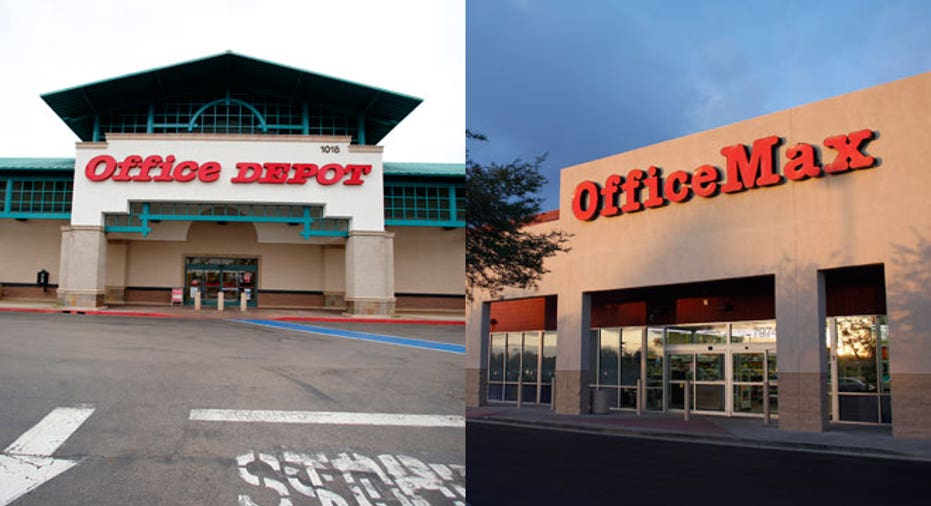 Office Depot (NYSE:ODP) and OfficeMax (NYSE:OMX) received an expected request from the Federal Trade Commission for more information related to their proposed merger, the office supply retailers said Tuesday in a joint statement.
The companies said the FTC request was expected, adding in their statement that the deal can close 30 days after they have "substantially complied" with the request. The FTC can also terminate the waiting period.
Office Depot and OfficeMax are optimistic the deal, which was announced on Feb. 20, will get regulatory approvals.
Also on Tuesday, the retailers named committee members who will handle the selection of a new chief executive for the combined company. Current chiefs Neil Austrian, chairman and CEO of Office Depot, and Ravi Saligram, president and CEO of OfficeMax, will be considered, along with external candidates.
Office Depot plans to merge with its smaller rival in an all-stock deal that values OfficeMax at about $1.19 billion. The companies have said the deal would create a new retailer with $18 billion in sales.
Saligram said both companies remain committed to complete the transaction by the end of this year.
"We are very pleased to have launched a comprehensive integration planning process and remain confident in the combined company's ability to deliver the targeted cost synergies and to more rapidly scale key market innovations," Saligram added.
Shares of Office Depot were up seven cents at $3.90 in pre-market trading. OfficeMax shares closed Monday at $11.35 and were inactive in pre-market trading.