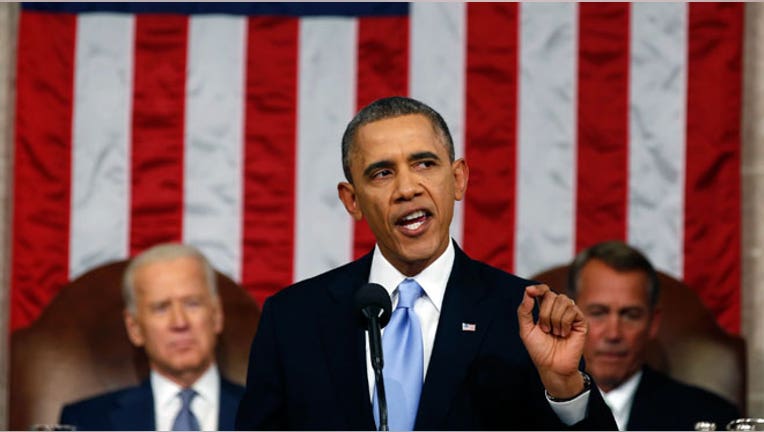 The president's fifth State of the Union Address ran 65 minutes Tuesday night, but talk of his signature legislation, the Affordable Care Act, was noticeably short.
ObamaCare was brought up late in the speech and was not the first mention of health care: the first lady's 'Let's Move' campaign was mentioned early in the speech. The president's comments on the ACA centered on a physician's assistant who was able to afford emergency surgery earlier this year because of the legislation along with other positive highlights.
Obama touted the 3 million people under age 26 who have gotten coverage through their parents' health plans, and the 9 million total enrollees, including those who signed up for Medicaid and in the private market. He made no mention of the ACA's rocky rollout, which began on Oct. 1, and the well-documented flaws with Healthcare.gov.
"Because of this law, no American can ever again be dropped or denied coverage for a preexisting condition like asthma, back pain, or cancer. No woman can ever be charged more just because she's a woman.  And we did all this while adding years to Medicare's finances, keeping Medicare premiums flat, and lowering prescription costs for millions of seniors," the president said.
Paul Howard, director of the Center for Medical Progress at the Manhattan Institute, says the mention was short and a "victory lap of sorts" for the ACA.
"He couldn't spend too much time on it, because so many problems remain with the law's execution," Howard says. "Open enrollment doesn't end until March and we still don't know how many people have paid their first month's premiums. The pool is still older and sicker, and it appears that only a fraction of people who are getting coverage were previously uninsured."
The president also acknowledged he is not out to "convince" Republicans on the merits of the law, and said he is open to hearing ideas that will help the law function better for Americans.
"I know that the American people aren't interested in refighting old battles. So again, if you have specific plans to cut costs, cover more people, and increase choice – tell America what you'd do differently.  Let's see if the numbers add up.  But let's not have another forty-something votes to repeal a law that's already helping millions of Americans…" he said.
No one can deny the rocky rollout of the health-reform's exchanges, but there are others that can be improved, says Howard, who says adding more plans to the exchanges and lower the law's price tag should all be considered.
"Something that lowers the cost of the bill—bring the subsidy [eligibility] down from 400% of the federal poverty level to 300%. This has been proposed in the Coburn-Hatch Act."
Another option in terms of choice would be to allow families who are Medicaid eligible to use their subsidies to "wrap around" private insurance. In certain cases, parents may be subsidy-eligible, and their children may be eligible for the Children's Health Insurance Plan (CHIP). Howard says more choice would mean allowing parents to use that CHIP cash to fund private insurance payments off-exchange. But with a Congress that seems constantly gridlocked, it's clear that talking about compromise, and actually compromising are two different things.
"The Republican base may not be happy as being seen as trying to 'fix' the law, but they can use it as a vehicle for market-based health-care reform," he says. "They should see it as an opportunity to get to the system they want to have."