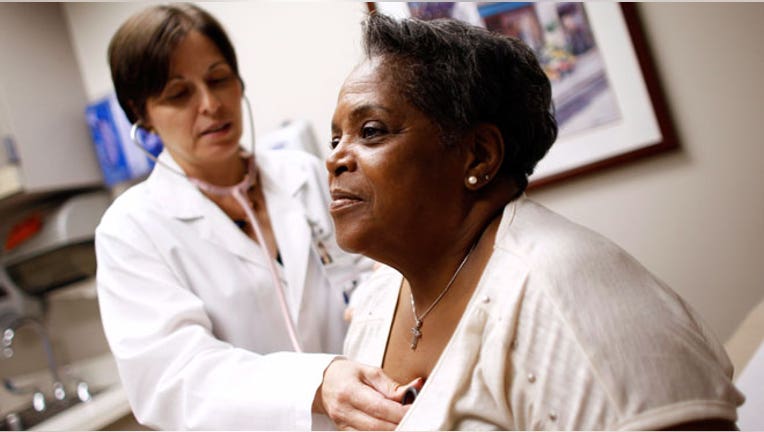 Six weeks into the rocky rollout of the Affordable Care Act's insurance registration website Healthcare.gov, the Obama Administration announced $150 million in new ObamaCare grants Thursday to expand community health-care centers across the country.
This funding round is part of $11 billion made available to community health centers nationwide under the legislation to be distributed over the next five years.  The funds will be distributed among 236 health centers to hire new medical staff and extend care to an additional 1.25 million patients, the president's signature legislation details.
Grant recipients were chosen via a competitive application process, a Department of Health and Human Services spokesperson told FOXBusiness.com via email. These health centers provide basic care to patients for a sliding price based on income. Now, patients who visit these centers will be given information about the health-insurance exchanges and will be assisted in signing up for coverage if they chose, the department said.
"Community Health Centers see patients regardless of their insurance status or ability to pay. Community health centers are playing a role in helping their patients and people in the communities sign up for health-care coverage because having more insured patients will enable them to stretch their resources in the community," the spokesperson said in the email.
Dr. Janet Kim, chief medical officer at the Beacon Christian Community Health Center in Staten Island, N.Y., says her clinic received nearly $63,000 in July from an earlier round of funding within this program that was designated to solely cover the hiring of a health-care navigator, Kim says.
Thursday's round  of funding is labeled for hiring new staff and extending care, as well as potentially bringing on new navigators.
The Beacon Community Health Center has a total of three health exchange navigators who are supposed to help sign up patients for insurance on healthcare.gov. However, Kim says that the issues associated with the state's exchange website and delays in training for navigators has prevented the center's navigators from enrolling any patients for coverage. The center has one trained navigator with the other two awaiting training. The center is set to have its first official enrollee Friday, according to Kim.
"We have several hundred patients that we are in the process of contacting for the New York exchange," she says. "We are able to provide services to people who are uninsured, and see people from all walks of life. Not every one of these uninsured people is eligible for a policy on the exchange."
Community health centers act as safety nets in communities where access to care is difficult or limited  whether it's because of a lack of insurance, lack of resources or difficulty accessing care.
"When patients come in without insurance we have a team available to help them meet that need," Kim says. "Through the [ACA] program Section 330, we are required to offer a fee to offset costs to the uninsured. It is a sliding fee scale that varies from center to center."
Expanding care at community clinics is typically beneficial to the community at large, according to Yevgeniy Feyman, Manhattan Institute scholar.
"They offer free care, the cost to insure patients is very low, and they aren't paying much out of pocket," Feyman says. "This is also in the vein of the administration's focus of expanding primary-care access. Costs depend on if [patients] have insurance, what their income is, if they are in a coverage gap, if their state has Medicaid expansions—they could effectively get free care here."
The administration chose to announce this funding round at a "politically-expedient" time, according to Feyman, but he says it will do little to detract from the current issues associated with the ACA's exchange rollout.  He adds its likely uninsured people will be given information about the exchanges to enroll in coverage.
When uninsured people visit Kim's clinic, they are encouraged to sign up for care, she says.
"We will encourage them to seek out our own navigator," Kim says. "Some of the centers that were funded today may not have a navigator because they are still new—we were funded back in the summer."