NYC marathon champ Shalane Flanagan eyes 'cooking' career after win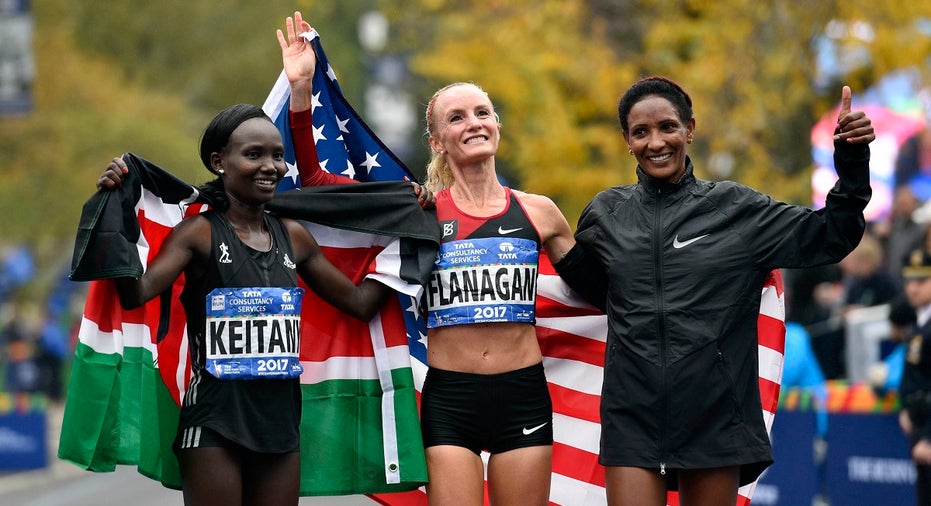 Shalane Flanagan became the first American to win the women's New York City Marathon since 1977 on Sunday, pulling away from three-time Kenyan champion Mary Keitany during the last three remaining miles.
Flanagan, who has long been endorsed by Nike (NYSE:NKE), walked away with a cash prize of $100,000 and a potential bonus of $10,000 for finishing in under 2 hours and 27 minutes. Her unofficial time was 2 hours, 26 minutes, 53 seconds, about a minute faster than Keitany.
Additionally, the new title could now open the already four-time Olympian and New York Times best-selling author to a slew of other endorsements deals.
However, the mother of two told ABC's Good Morning America Monday that while she still loves running, it may be time for her to move on.
"I'm 36. I love what I do. I'm very passionate about running [but] there are other things in my life that I love," Flanagan told GMA.
Cooking is one of them. Last year, Flanagan teamed up with her college cross-country teammate, Elyse Kopecky, to write the cookbook, "Run Fast. Eat Slow," to educate runners on how to eat using whole foods.
"There are other ways that I can contribute to the sport. I want to teach young women how to eat well and take care of themselves. I have other passions that I think are starting to bubble up now," she said.