NY Giants' Eli Manning will earn millions while sitting on bench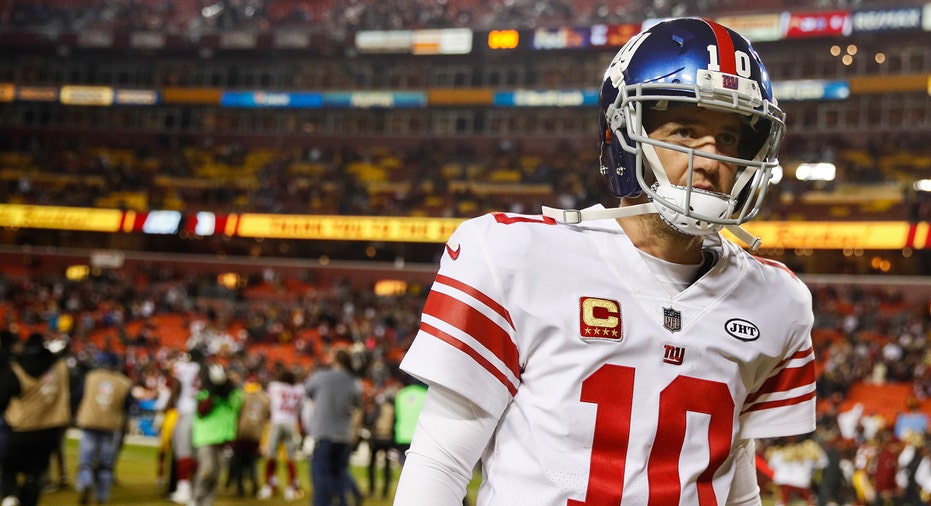 New York Giants quarterback Eli Manning is one of the NFL's highest-paid backups after the team announced Geno Smith would replace him as its starting quarterback this week.
Manning, 36, has a base salary of $13 million for the 2017 NFL season, or roughly $765,706 over 17 weeks, according to Spotrac. If Manning remains a backup for the final five weeks of the season, he will earn more than $3.8 million while watching the game from the sideline. By comparison, Smith is earning $775,000 this season, or roughly $45,588 a week.
Coach Ben McAdoo's decision to bench Manning ends the veteran quarterback's streak of 210 consecutive regular-season starts, which ranked second behind Brett Favre's record of 297. Manning said he rejected an offer from McAdoo to start the remaining games to continue the streak.
"Coach McAdoo told me I could continue to start while Geno and Davis [Webb] are given an opportunity to play," Manning said. "My feeling is that if you are going to play the other guys, play them. Starting just to keep the streak going and knowing you won't finish the game and have a chance to win it is pointless to me, and it tarnishes the streak. Like I always have, I will be ready to play if and when I am needed. I will help Geno and Davis prepare to play as well as they possibly can."
The Giants have struggled to a 2-9 record this season amid of wave of injuries to several of their top stars, including wide receiver Odell Beckham Jr. Manning has thrown 14 touchdown passes against 7 interceptions.
At present, Manning is under contract with the Giants through the 2019 NFL season. He will count $12.4 million against the Giants' salary cap in 2018 and $6.2 million in 2019 if the franchise opts to part ways with him through a trade or release.
Manning led the Giants to Super Bowl victories in 2007 and 2011.