NY Auto Show: 5 Redesigned Cars of the Future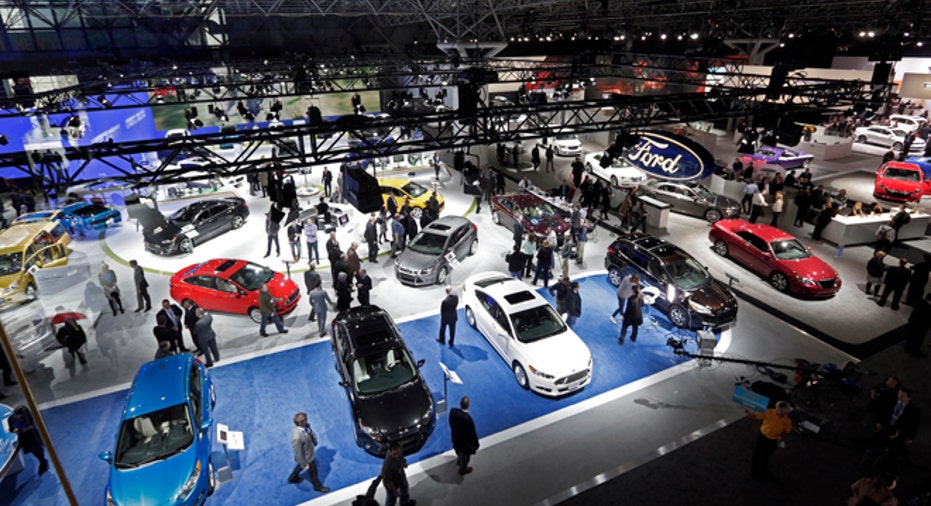 Cars That Are Worth the Wait
One of the greatest things about walking the floor of an auto show is that you get to see all the latest models in the flesh, with the opportunity to sit in them, check out their features and talk to product specialists to learn more.
One of the worst things is that if you fall in love with one of these beauties, you'll likely have to wait a while before you can head over to your local dealer to buy one. Here are five cars of the future unveiled recently at the 2013 New York International Auto Show that many will find are worth waiting for to buy in the coming years.
2014 Volvo V60
Immensely popular overseas, Volvo's V60 sport wagon will be coming to the U.S., said company officials at the 2013 New York International Auto Show. Details for the U.S.-specific version will be announced at a later date, but the Volvo V60 sold overseas features a coupe-like roofline with a wedge shape that provides extra cargo space and a sporty appearance, giving Bankrate several reasons to make it one of our cars of the future.
On the inside, the front passenger seat folds flat and the rear seat features a 40/20/40 split for optimum flexibility of passengers and cargo. There are two gasoline engines and three clean-diesel engines, as well as a plug-in hybrid version. There's no word yet on which engines will be offered stateside, but both the gasoline engines are available in the U.S. in other Volvo models.
Standard features include all-wheel drive, advanced stability control and corner traction control, while safety features include three systems that can automatically apply the brakes in the event of an imminent collision with a pedestrian, another car or a stationary object.
The Volvo V60 will go on sale in the U.S. in early 2014.
2014 Honda Odyssey Touring Elite
Honda introduced the 2014 Honda Odyssey Touring Elite at the 2013 New York International Auto Show as the new "ultimate family vehicle." The redesigned minivan features a long list of standard technology such as keyless smart entry where the car automatically unlocks when the key fob is in close proximity without pushing any buttons, push-button start, HD Radio, text messaging capability, and HondaLink, which allows an owner to connect his or her smartphone to the car to play custom radio stations, check out restaurant reviews and receive news updates via social media.
One of the most unique standard features of the 2014 Honda Odyssey Touring Elite is the built-in HondaVAC, a powerful Shop-Vac vacuum integrated into the rear cargo bulkhead to allow for easy cleanups anywhere in the vehicle. The Odyssey Touring Elite also includes structural upgrades that Honda expects will allow it to get top scores in the new small-overlap frontal crash test to make it a top safety pick by the Insurance Institute for Highway Safety.
It goes on sale in summer 2013.
Subaru WRX Concept
Subaru's WRX car has been a popular sport compact for many years and this concept car hints at the future design of the next generation WRX.
The Subaru WRX Concept shown at the New York auto show showcases a new look for the car that is substantially lower and wider than the current model. The new grille is larger and bolder looking, drawing more attention to the hood scoop that the WRX is known for.
The wide stance and flared wheel arches draw attention to the all-wheel-drive system, while the rear features a dramatically curved trunk lid that functions as a rear spoiler. An unusually wide rear bumper draws attention to the four large tailpipes, which add to the aggressive look.
The Subaru WRX Concept also features a new paint color, WR blue pearl III, a new twist on the blue color that has become synonymous with the WRX, while fluorescent yellow accents complete the unique look.
2014 Nissan Pathfinder Hybrid
Nissan redesigned its Pathfinder SUV for the 2013 model year, but for the 2014 model it is ready to bring a hybrid version to market. The seven-seater will be powered by a supercharged 2.5-liter gasoline engine paired with an electric motor that provides 250 horsepower and 243 foot-pounds of torque -- power similar to the gasoline-only V-6 version yet with an expected 26 combined miles per gallon, a 24 percent increase over the Pathfinder's standard V-6 engine.
It also has a 3,500-pound towing capacity when properly equipped. The 2014 Nissan Pathfinder Hybrid rides on the same chassis as the gasoline-only model, which means it also has an available four-wheel-drive system with driver-selectable two-wheel drive, automatic four-wheel drive or a four-wheel-drive lock mode for situations when additional capability is necessary.
Other features include trizone automatic climate control, Bluetooth hands-free cellphone capability, power rear liftgate, a trizone entertainment system with built-in DVD screens and Nissan's Around View monitor, which provides a 360-degree view of the area around the vehicle.
The 2014 Nissan Pathfinder Hybrid will arrive in showrooms in late summer 2013.
2014 Buick LaCrosse
Introduced in 2009, the Buick LaCrosse is ready for a redesign. The 2014 Buick LaCrosse full-size luxury sedan has refreshed styling as well as new advanced technologies.
Designers freshened up the Buick's look with wing-shape light-emitting-diode daytime running lamps and LED wraparound taillights, while the interior features a more contemporary look with a new central instrument panel and a floor console with more storage.
The seats have been redesigned for increased comfort and now feature four-way adjustable headrests, door panels with revised door locks, seat memory and trunk release controls.
There's now a long list of standard safety features including side-blind alert, lane-change alert, a forward collision warning, rear cross-traffic alert and automatic collision preparation. All these systems work with the safety-alert seat, which vibrates to alert the driver of possible situations that could result in an accident.
Available in a choice of front-wheel drive or all-wheel drive, the LaCrosse also has a choice of two powertrains: a light hybrid that uses a 2.4-liter engine with an electric motor to improve fuel economy or a 3.6-liter direct-injected V-6 engine.
The 2014 Buick LaCrosse goes on sale in summer 2013.