Nokia Unwraps First Tablet, Aiding Microsoft Blitz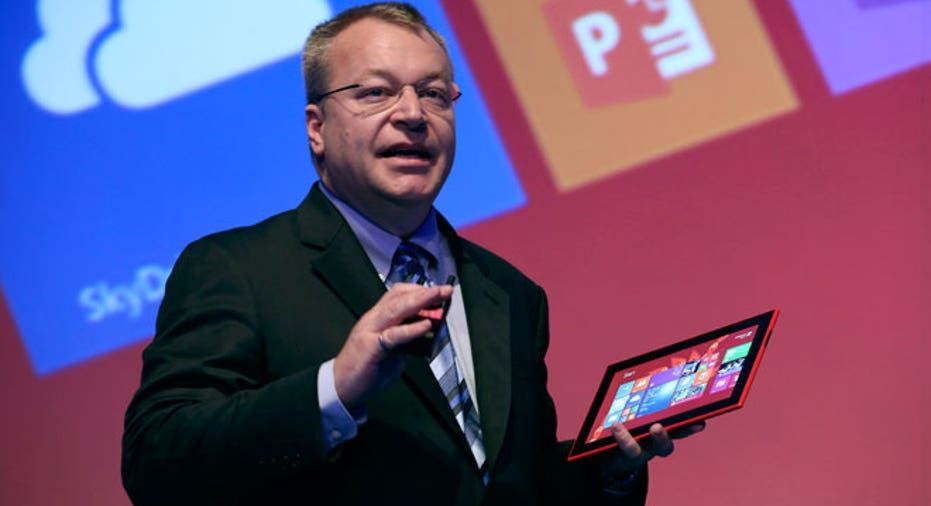 Nokia (NYSE:NOK) revealed on Tuesday its first tablet and a pair of oversized smartphones, as the Finnish device maker looks to bolster its position in the market before its handset business becomes part of Microsoft (NASDAQ:MSFT).
The new products, including cheaper phones for Nokia's Asha line, were introduced at an event in Abu Dhabi the same day as Apple's (NASDAQ:AAPL) unveiling of new iPad tablets. Most of Nokia's new devices should be on store shelves to capitalize on the holiday shopping season.
Nokia's push to introduce more touchscreen devices to the market is an important move for Microsoft, whose latest Surface tablet goes on sale Tuesday after a tepid launch for the first-generation device.
Last month, Microsoft agreed to buy Nokia's device business for $7.2 billion. Former Nokia CEO Stephen Elop, who appeared at Tuesday's event, is transferring to the software giant.
The tablet, called the Lumia 2520, has a 10-inch screen and will run Windows RT, a scaled-down version of Microsoft's Windows 8.
Windows RT, which is also used for the least expensive Surface tablets, runs only on devices with ARM Holdings (NASDAQ:ARMH) processors.
The Lumia 2520 will be priced at $499 and, like the Surface, has an optional keyboard. But unlike Microsoft's flagship tablet, Nokia will ship the Lumia 2520 with LTE cellular data technology.
Nokia has been making smartphones running Microsoft's Windows Phone operating system for the last couple years. Most of those devices are comparable in size to other popular handsets from Samsung and Apple.
Now the company is looking to enter a growingly popular category known as "phablets," or smartphones with oversized screens. Nokia said it will begin selling two large-screen smartphones, the Lumia 1320 and more expensive Lumia 1520.
Nokia shares were up 3.1% at $7.38 in early afternoon trading, after hedge fund Third Point disclosed a stake in the company. Microsoft was trading 18 cents lower at $34.81.