Nokia Shares Slide as 2Q Handset Sales Disappoint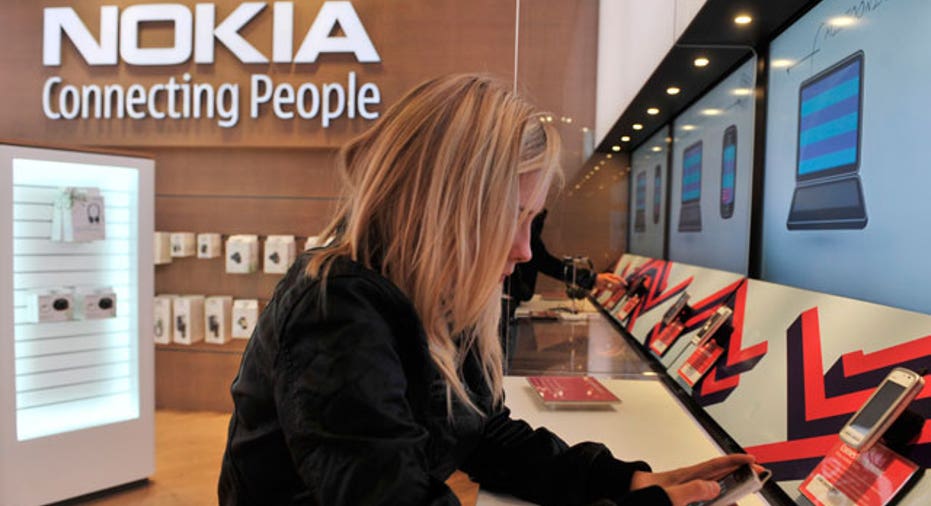 Shares of mobile device maker Nokia (NYSE:NOK) fell more than 3.5% Thursday after the company revealed softer-than-expected sales of its new Lumia smartphone, a setback in its effort to catch up to larger rivals Apple (NASDAQ:AAPL) and Samsung.
The Finnish handset maker said it shipped 7.4 million Lumias in the second quarter, up 32% from the first quarter but below the 8.1 million phones analysts in a Thomson Reuters poll had been expecting.
Net sales decreased 6% quarter-over-quarter to 2.7 billion euros ($3.5 billion), while volumes of its regular phones slumped 4% to 53.7 million units.
Nokia, whose net loss of 227 million euros was slightly better than the consensus view of a 276 million euro loss, said mobile phones, which account for about half of its handset revenues, demonstrated "some signs of recovery in the latter part of the quarter following a difficult start to the year."
"Our mobile phones business unit is planning to take actions to focus its product offering and improve product competitiveness," Nokia CEO Stephen Elop said in a statement.
Meanwhile, the Lumia suite of products, which are based off Microsoft's (NASDAQ:MSFT) Windows Phone software, are expected to drive a significant part of smart device revenues in the third quarter, he said.
Nokia during the quarter announced plans to buy Siemens' 50% stake in their joint venture Nokia Siemens Networks (NSN) for $2.2 billion. In its most recent quarter, NSN's margins grew to 11.8% from 7% in the first quarter, helping to cushion weak mobile sales.
The device maker plans to drop Siemens from the name and drive it as a more independent entity when the transaction closes sometime in the current quarter.
Shares of Nokia fell close about 3.5% to $3.90 in choppy trade, though they remain up about 125% from 12 months ago.