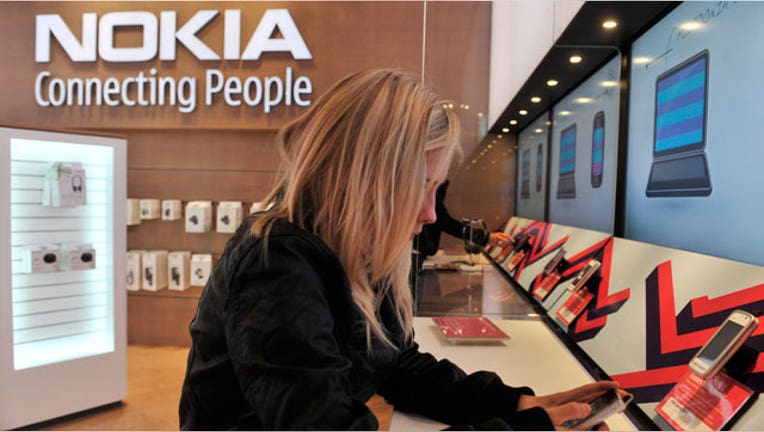 Nokia (NYSE:NOK) took a huge axe to its first-quarter devices and services guidance and issued a gloomy outlook for the new quarter on Wednesday, wiping out 18% of the Finnish handset maker's market cap.
The outlook downgrade is the latest setback for the struggling electronics company, which has been slammed by soaring competition from popular devices made by Apple (NASDAQ:AAPL) and powered by Google's (NASDAQ:GOOG) Android.
Nokia cited a number of factors weighing on its decision to lower its outlook, including competitive industry dynamics that hurt sales of mobile phones and smart devices, especially in India, the Middle East, Africa and China.
Specifically, Nokia warned it expects its devices and services operating margins to slump by 3% in the current quarter, compared with its earlier forecast for "around breakeven." First-quarter sales at this division are seen at 4.2 billion euros on gross margins of about 25%.
Likewise, Nokia warned it expects operating margins in this business segment to be "similar to or below" the level of the first quarter.
The "disappointing" results and second-quarter outlook "illustrates that our Devices & Services business continues to be in the midst of transition," CEO Stephen Elop said in a statement.
After plunging as much as 18%, U.S.-listed shares of Espoo, Finland based Nokia were recently off 16.10% at $4.22 ahead of Wednesday's open. Nokia's shares had already tumbled more than 40% over the past year as of Tuesday's close.
Nokia, which is scheduled to report its full results next week, said it plans to take a number of steps to address the shifting competitive dynamics, including lowering its cost structure and improving cash flow.
Nokia also said it plans to focus on accelerating sales of its Lumia series of smartphones, which launched in November, by increasing investments.
The company said it sold more than 2 million Lumia devices at an average selling price of about 220 euros in the first quarter and has seen sequential growth in activations each month.
"We are continuing to increase the clock speed of the company," said Elop. "The change is tangible, and we are proud of the way Nokia employees are quickly responding to the needs of consumers and partners."