Nokia Narrows 3Q Loss, Logs Record Lumia Sales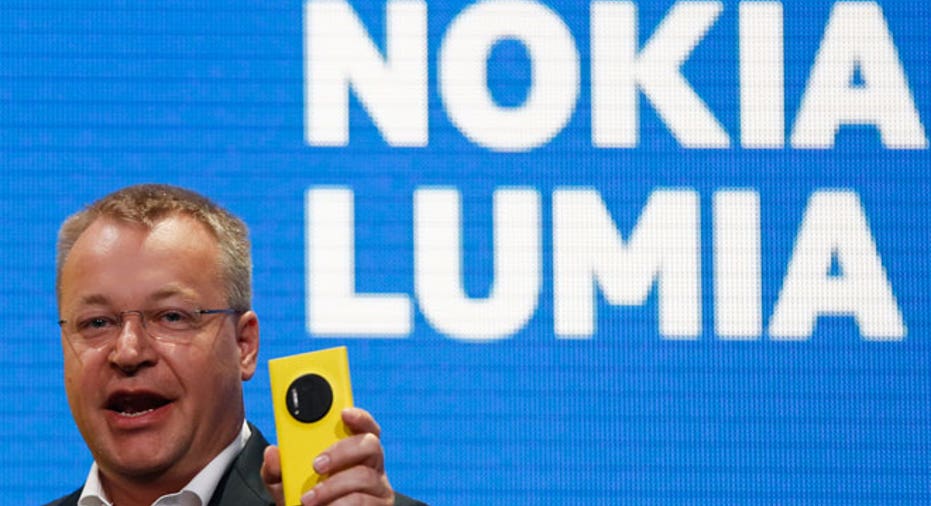 Nokia (NYSE:NOK) narrowed its third-quarter loss amid cost cuts and record sales for its flagship Lumia smartphones.
Early last month, the Finnish company agreed to sell its device business to Microsoft (NASDAQ:MSFT) for $7.2 billion. Nokia will primarily focus on its mobile network business, Nokia Solutions and Networks, after the sale.
Nokia issued upbeat guidance for NSN, calling for an improved profit margin of about 12%, plus or minus four percentage points, in the current period. The unit posted an 8.4% margin in the third quarter. Nokia also suggested fourth-quarter NSN sales will be strong.
Investors reacted positively to the news, sending Nokia shares up 9.6% to $7.40 early Tuesday morning.
In the latest period, NSN saw its operating profit fall a steeper-than-expected 33% to €218 million, or $300.5 million. Sales were down 26%.
Overall, Nokia's loss fell to €91 million, or $125.58 million, compared to a €959 million loss in the year-ago period. Wall Street was expecting a wider loss of €217 million, according to analysts polled by Dow Jones.
Total revenue slipped 22% to €5.56 billion, or $7.65 billion, missing estimates and marking the company's lowest quarterly sales since 1999.
Nokia said it shipped a record 8.8 million Lumia smartphones during the quarter, a positive sign for Microsoft. The devices run the software giant's Windows Phone operating system. Nokia sold 7.4 million units in the second period and 2.9 million last year.
Sales of basic mobile phones rose 4% sequentially to 55.8 million units.
Last week, Nokia unveiled its first tablet and a new set of Lumia devices, looking to bolster its market position before the business is turned over to Microsoft.
Shares of Microsoft ticked 17 cents lower to $35.40 in recent trading.