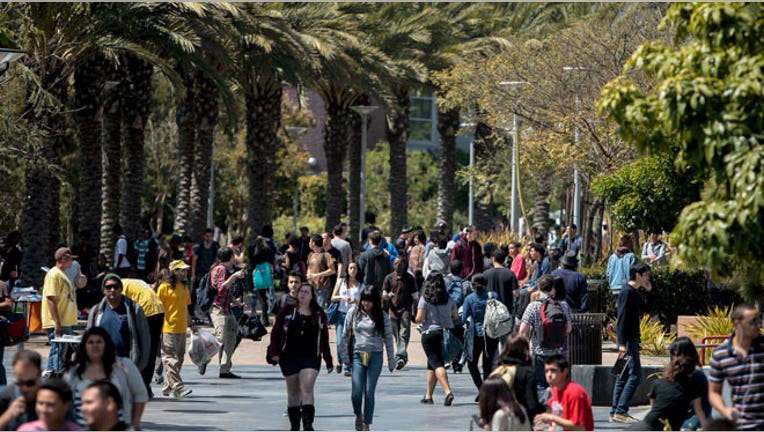 College students across the country are being forced to leave campus to light up a cigarette.
Colleges and universities across the country are banning smoking in public areas within their borders, and some are taking it a step further by prohibiting smoking anywhere on campus. So far, more than 1,000 colleges have imposed smoke-free policies. Even in tobacco-heavy Kentucky, where the adult smoking prevalence is 29%, nine colleges are tobacco free.
"Why would we stand idly by when we are watching young people hurt their lives?" says Ty Patterson, director of the Center of Excellence for Tobacco-Free Campus Policy.
Ozarks Technical Community College was one of the first to implement tobacco-free policies in 2003, and according to Patterson, who helped craft the school's initiative, there was little pushback from the student body.
"It's easier to implement the policy with not trying to tell them to quit," Patterson says. "If we decide we want to make our space more respectful of our people and environment, there is less opposition."
Smoking prevalence declined to 18.9% from 24.4% among adults aged 18-24 years from 2005 to 2011, according to the Centers for Disease Control and Prevention. This age group now has the lowest smoking prevalence of any group under 65. Just six years ago, this group had the highest number of smokers.
Patterson says it's "tempting" to attribute the decline to tobacco-free campus policies, but he says that isn't the goal – it's more about creating "a respectful environment."
"Smoking is definitely a personal decision, but it makes me happy knowing that I won't encounter cigarette butts or unwanted smoke anywhere on the University of Florida campus," says UF sophomore Patty Alvarenga. The public university went tobacco-free in July 2010.
Emory University became smoke-free one year ago, and according to Heather Zesiger, director of the Office of Health Promotion for the school, the decision hasn't hurt admissions.
"There has not been expressed concern in the admissions office regarding a disadvantage by having a smoke-free policy," she says. "To our knowledge, most applicants do not use smoking policies as criteria to make a decision regarding their education."
The school offers free tobacco-cessation programs for students and employees, but they aren't required. Interestingly, Patterson says the bans tend to nudge more campus workers to snuff out the habit.
"It's easier for students to continue not smoking than for the faculty or staff," Patterson says. "Younger people are frequently not addicted. They can go a longer period of time without using tobacco."
Not all students are on board with the trend of smoke-free campuses. "I don't think the university should ban something that is otherwise legal for students to do," says Michael Panek, a junior at American University who doesn't smoke. "As law abiding citizens, we are allowed to smoke tobacco if we so wish.  It shouldn't be up to the university to make that decision for us."
American University will join the ranks of smoke-free schools in August 2013, and the private school will be the first D.C. college to ban use of tobacco and cigarettes on campus.
Johnson and Wales University in Providence, R.I., allows smoking on campus, and sophomore Bridgette Duffy says there is a social aspect to lighting up.
"Being outside smoking was actually the way I met a lot of my great friends freshman year and I feel as if it's a common thing for others." However, Duffy says she would not quit smoking if JWU became smoke free and would just walk off campus to smoke.
As government-mandated smoking bans in public areas gain momentum in cities across the country, questions surge about the constitutionality of public universities enforcing these policies in open spaces. According to Maurice Thompson, executive director of the 1851 Center for Constitutional Law, public universities can enact tobacco-free bans as the government sees fit.
"The government has a stronger case for prohibiting smoking in public spaces such as parks, or even in public universities," Thompson says. "If the state wanted to ban smoking in all public universities, then it's public property and they are the stewards of that property." After all, he says, "your option is to go somewhere else."
Patterson says the distinction between a "smoke-free" policy and a "tobacco-free" policy is important. In fact, by only enacting smoke-free policies, colleges may unintentionally encourage students to start using smokeless tobacco, he claims.
"The tobacco industry has moved aggressively toward marketing and advertising smokeless tobacco to young people," Patterson says. The tobacco-free bans might be difficult to enforce, though, because new forms of chewing tobacco are so discrete and can be swallowed. Therefore, he says he does not believe the tobacco industry will be harmed as a result of these policies.
Philip Morris USA, a tobacco division of Altria Group (NYSE:MO), which includes brands such as Marlboro, Virginia Slims, and Merit, opposes complete bans of smoking. The company released a statement on its website saying:
"Philip Morris USA understands and agrees that people should be able to avoid being around secondhand smoke, particularly in places where they must go, such as public buildings, public transportation and many areas in the workplace. … We maintain, however, that complete bans go too far. We believe that smoking should be permitted outdoors except in very particular circumstances, such as outdoor areas primarily designed for children."
Within the next 10 years, and certainly in the next 20 years, Patterson says he believes virtually all college campuses and many open spaces will go tobacco-free, despite the opposition from the tobacco industry and from many students.