Nine Ways to Cut the Cost of College Visits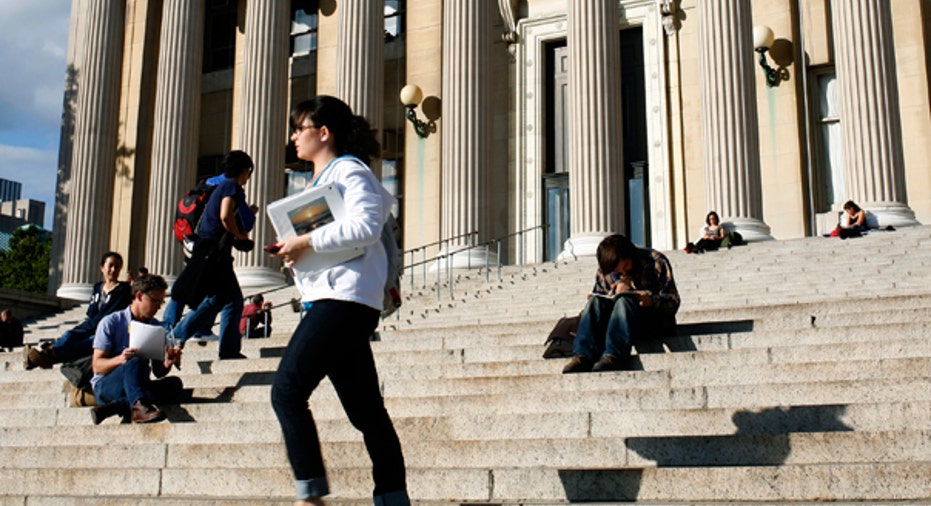 Growing up is tough enough without the worries of your financial future, so Money101  is here for you. E-mail us your questions and let us take off some of the pressure.
We all know that college tuition is expensive, with the price tag only expected to rise. But the actual process of selecting the best school is also burdensome on families' budgets.
"While many families budget for the cost of college tuition and room and board, many families forget to budget for the cost of actually applying to college," says Katherine Cohen, CEO and founder of IvyWise and ApplyWise.com. "Our team's research has found that on average, families spend $3,500 just applying to college [including] college application and standardized testing fees, test prep, and, of course, college visits."
Experts stress the importance of campus visits before students make a commitment, but  visiting multiple schools across the nation can rack up a hefty bill. Here's how the experts say families can keep costs to a minimum and still get the information needed to make a decision on where to enroll in the fall.
Consolidate your list. Ideally students want to see all of the colleges on their list to find the best fit academically, socially and financially, but cash-strapped families can narrow the visit list to their top three or four schools, says Cohen.
"Students typically visit college campuses twice during the college admissions process—before applying and after acceptance. To save money, they can cut out one visit.  It's more important to visit before applying because it shows demonstrated interest in the school."
Start close to home. Lisa Mader, president of Learning Enrichment and Assistance Program LLC (LEAP), explains that visiting a campus close to home first will help students and their families learn their priorities and what they want from a school before investing time and money on travel, and possibly having to make repeat visits.
"More than half of students land at a school within 100 miles of home," she says. "In states in the Midwest and East, there are a plethora of schools from which to choose, so you may just find the right fit closer to home."
Use your vacation time to your advantage. Families should pull double duty on their vacation and look for schools near or along the journey to the destination.
"You don't necessarily have to do a formal visit – just walk or drive through campus if that's all you have time for," says Mader.
Look into subsidized visits. Cohen suggests accepted, but undecided students who can't afford to make a campus visit contact the school and let them know their situation.
"Especially once a student has been admitted to a college, as that school has made an investment in the student and wants him or her to attend their school," she says. "If a college visit will help that student decide, a school may absorb or subsidize the cost of that visit."
Consider a tour company. Students who want to view multiple campuses in a short span  with other students should consider investing in a private tour company. While it does involve spending some money (programs can cost anywhere from $1,000-$2,000), families can get more bang for their buck by sending their student solo, says Sally Rubenstone, senior advisor at College Confidential.
"You're not paying the extra airfare and hotel bills for mom and dad, you're not putting the dog in the kennel, you're not parking your car at the airport--all of those extra costs that go into a college trip with the parents and the student," she says.
Although the whole family may not get to see the school the first time around, parents can visit when there's only one or two schools in contention.
Team up with other families. Check with extended family and friends to see what colleges they are planning to visit and offer carpooling for any overlaps or schools in close proximity.
"Even if the parents don't get to see all of the schools, at least you're getting the inside scoop from other parents you trust," says Rubenstone.  "It can be cost effective to stuff several teenagers in a room with a parent and then you're cutting down on all of the trips."
Live like a college student. Students can get used to a college environment and living on a shoe-string budget by bunking with current college students, suggests Cohen. This can save students money on hotel expenses and they can experience campus life first-hand.
Prospective students can also cut down by making the campus dining hall the "restaurant" of choice, says Cohen.
"Not only is this a much less expensive dining option than eating at a local restaurant, but it also gives students a taste for the school's cuisine as well as a chance to connect with current college students."
Take a virtual tour. Although it's hard to grasp the full picture without a first-hand impression of a school, virtual tours and student blogs can help students rule in or out whether they want to invest in a visit, says Mader.
"Check YouTube for videos posted by the school [and] 'liking' a school on Facebook or following on Twitter will also speak to the culture of that school," she says. "Keep in mind though that schools are always putting their best foot forward on virtual tours, so when you are actually on a campus, get off the beaten path."
Use resources close to home.  If a cross-country visit is not within a family's budget, students can still show interest in the college without physically visiting, says Rubenstone.
"You can interview with alumni in your area, you can attend admissions [meetings] in your area. You can write the admissions officer who oversees applicants from your high school and say, I would really love to go here but I'm not going to be able to swing a trip."