Nine Ways to Attend College for Free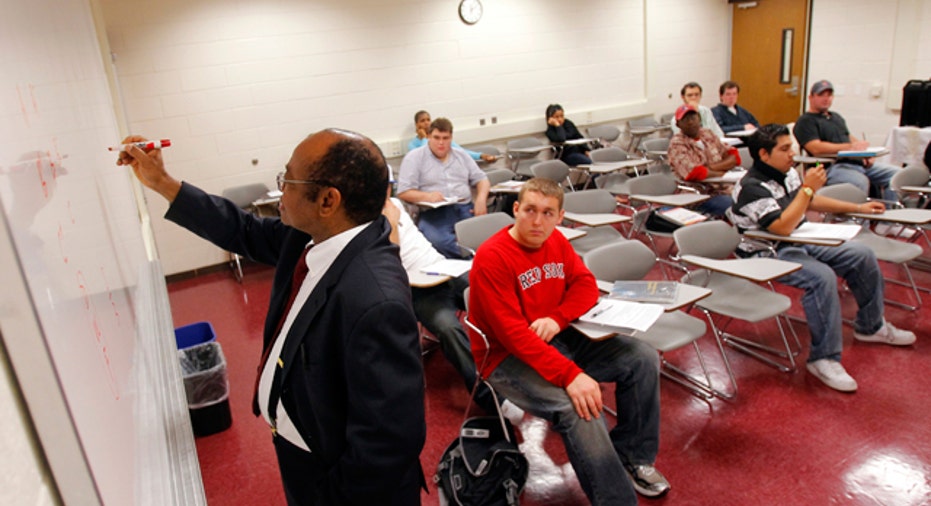 If unemployment rates and budget cuts have you down, there are still options for students who need someone else to foot their college bills.
Students can work their way through college, obtain a waiver or choose an in-demand field. Find out more about these and other ways to attend college without paying.
The perennial way of eliminating college costs is still available. To up your odds, Doug Hewitt, co-author of "Free College Resource Book," advises students to fill out the Free Application for Federal Student Aid, or FAFSA, and then focus on local prizes.
"There are more scholarships you'll qualify for in your home state than nationally," says Hewitt. "Look at local organizations and talk to your high school (guidance) counselor." Start early, too. While students usually don't start scholarship hunting until senior year, awards are available for all high school grade levels
Give Service to Your Country
The U.S. Coast Guard, Air Force, Military, Merchant Marine and Naval Academies offer free rides to students who serve after college, but cash is also available through ROTC programs at their home institutions.
Service requirements vary but all require students to complete military training on campus and commit to up to 10 years of service. Students leave with training, a guaranteed job and opportunities for more free education.
AmeriCorps, a national service organization that offers education awards in exchange for community work, provides a $5,550 education award for each full year of service. Members also receive a living stipend while serving in the program.
Work for the School
Schools charge students tuition, but they usually don't for employees. "This is a great option, especially for older students with job experience," says Reyna Gobel, author of "Graduation Debt." "If you're 18, you might not qualify for a job that provides (tuition) benefits."
Schools typically provide benefits for full-time workers and sometimes require a certain level of experience, Gobel says. Future students can find out about their school's policy by calling the admissions office.
Waive Your Costs
"Tuition waivers may be available for (current or former) military and talented students," says Manuel Fabriquer, founder of College Planning ABC, a financial aid and admissions counseling firm in San Jose, Calif. "Even families that have substantial income can get tuition waivers if (the student) has the right test scores."
The North American Council on Adoptable Children in St. Paul, Minn., reports that Kentucky, Virginia, Maine, Massachusetts, Texas, Florida and Maryland offer waivers at certain public schools for adopted and foster care children. Other schools offer waivers for Native American students, senior citizens and dislocated workers. To find out what your school offers, call the financial aid office.
Become an Apprentice
Apprenticeships can pay for school, provide a post-college job and offer a salary, too. Apprenticeship programs take one to six years, are available in more than 1,000 occupations and require participants to complete at least 2,000 hours of field work annually, according to the Department of Labor.
In exchange, the sponsoring employer pays for college or technical training and provides a salary. A list of available programs is available at the Workforce One website.
Have Your Employer Foot the Bill
A survey of benefit plans for 4,500 companies by pension fund administrator Benefits USA found 76% of firms offer tuition reimbursement to some employees. Approximately one in three companies offer reimbursement to workers at any level.
"With employee reimbursement, you have to study in your field," says Carol Stewart, author of "Looking for Scholarships." "If you're thinking about being a film producer, I would be surprised if an engineering firm paid for that." To find out if your company offers reimbursement, talk to your human resources
Be in Demand
Students can also skip taking on debt by working in high-needs fields. Individual schools offer incentives to students in math, science, nursing, teaching and social work, but additional opportunities are also available through national organizations such as Teach for America, the Nursing Education Loan Repayment Program and the National Institutes of Health.
"The University of Portland has a nursing program where if you work in certain areas (after graduation), they'll pay for two years of tuition," Fabriquer says. "There are similar programs in (high-needs) fields across the country."
Attend a Work College
Students can bypass scholarship applications by enrolling in a work college. Designed to lower college costs and to provide work experience, the nation's seven four-year and one two-year work colleges require all students to work, usually 15 to 20 hours per week and sometimes while school isn't in session. In exchange, they receive free or substantially reduced tuition.
According to the Work College Consortium in Berea, Ky., students work in fields ranging from landscaping to hospitality, can change jobs once per year (sometimes more), and leave campus with their degree and four years of experience.
Choose a School That Pays for You
Focus on a single subject and you could attend school free. Schools such as The Cooper Union, the Webb Institute and the Curtis Institute of Music offer a select range of academic programs but also foot the tuition bill for every student.
"That's fine if you have no doubts about what you want to do," Gobel, author of "Graduation Debt," says. "The worst scenario is graduating, realizing you don't want to do that and having to go back."