Nine Tricks to Save Money on Your Next Hotel Stay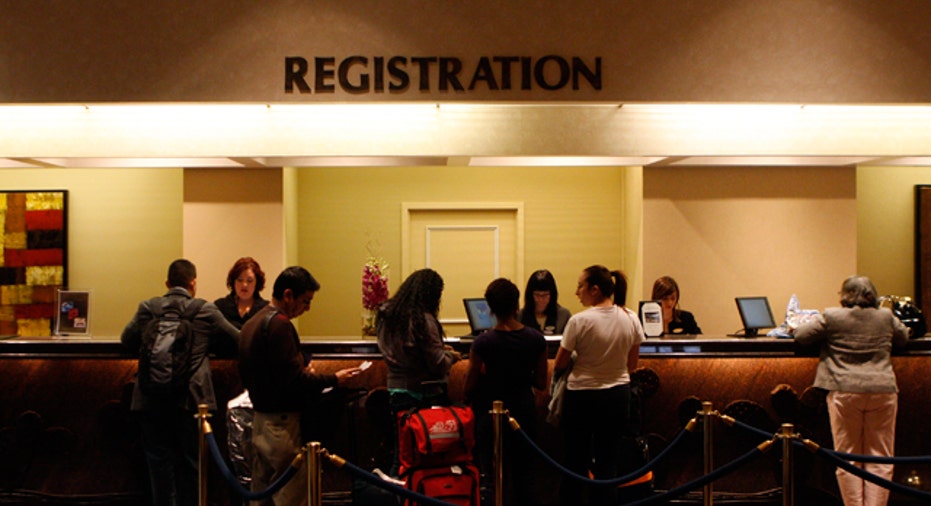 Getting a good room rate at a hotel doesnt mean its the best deal, experts warn.
Often hotels lure travelers in with low nightly rates and tack on extra charges such as breakfast, shuttle service and parking and facility fees to rack up the bill, says Ira Lewis, president of travel deal website SavingsonArrival.com.
"Amenities & can add up to big vacation savings, even if you have to pay a bit more to get them," Lewis says.
When booking a room, travelers should consider the entire budget picture, not just the cost per night. Things like cab fare commuting to and from an out-of-the-way hotel, sleep deprivation from staying in a low-cost, but high traffic-area hotel or money spent on breakfast outside the hotel, all need to be taken into account when picking a hotel.
"The key is to determine exactly what you want from the experience and then cut the best possible deal before you arrive," says Lauri Flaquer, business consultant with Saltar Solutions.
Travelers have the best opportunity to negotiate deals before handing over payment. While searching online travel aggregators for good deals is beneficial, personal interaction can go a lot further in finding good prices on amenity-rich deals.
Here are nine expert tips to reduce the cost of staying at a hotel:
Search online for prices, but call the hotel directly for specials
Keep a record of a hotel's online prices and then ask the hotel's front desk about best deals when calling to make the reservation. Booking directly with the hotel gives you more leverage in case you need to cancel. If you find a better room price online be sure to ask the reservationist if he or she can match it or throw in extras like spa credits or free parking.
"Ask, 'if I stay two nights can I get a third night free?' Or 'can I get an upgrade?'" says Robert Reid, U.S. travel editor for Lonely Planet, a travel guide publisher.
Inquire about advance purchase programs that offer discounts for prepaying your stay.
"Paying your hotel in advance & is a great option when you know your travel plans are not likely to change," says Marina MacDonald, SVP, sales and marketing of Red Roof Inn, which offers 20% off rack rate on bookings made 10 days ahead of the stay.
If you can, don't prebook your room
Travelers with ever-changing schedules or those staying in a hotel-heavy city can snag a good deal just by walking into a hotel and asking the front desk about vacancies.
"If not, you have leverage to negotiate a better rate since it's otherwise an unused asset for the hotel," says Scott Blankenship, CEO of TravelTipping.com.
Sign up for private online vacation deals
Luxury hotels slash rates by 50, 60 or 70% for private online sales, but you must register to take advantage of the them.
Sites such as Jetsetter.com, VoyagePrive.com and Vacationist.com offer deals for a short period of time, some for just 24 hours.
Always be sure to check the fine print to make sure there are no hidden fees, extra charges, or black-out dates.
Try independent hotels if you're traveling solo
Most hotels quote room rates on the assumption of two guests staying per room, but solo travelers staying at independent hotels should ask for a lower rate.
Independent hotels can also be more open to negotiation if you explain you're alone and they have vacancies to fill, says Ian Ford, CEO of UndercoverTourist.com, a discount-ticket supplier.
Review your credit card and loyalty program incentives 
Joining a hotel loyalty program can be a good way to obtain special rates and treatment if you don't mind sticking to one or two hotel chains. If you sign up for a program's corresponding credit card, you could get additional discounts and rack up points for free stays and other perks.
Take advantage of travel benefits available through memberships like AARP or AAA memberships, which offer substantial discounts at participating hotels.(
Be nice to hotel receptionists
"Many travelers swear by the $20-bill trick, slipping a $20 with your credit card at checkin and asking if any upgrades are available," says Wanderplex.com travel blogger Reena Ganga. "Las Vegas check-in agents in particular have a reputation for being very open to this trick."
But you don't always have to buy the receptionist's affection. "Just ask nicely," says Nate Silverman, founder of MoneySavingTripTips.com. "You don't need any special tricks. If they have anything you want, a friendly person at the registration or concierge desk will probably let you have them for free."
Use a travel agent
Travel agents might not be able to get the best rate, but they have access to unpublished deals and know when a destination is offering free companion airline tickets or when hotels are offering free nights.
Get to know the hotel staff
"Start with the manager," Flaquer recommends. "Make a point to compliment him or her about your stay and promise to come back again. Next time you are checking in, ask for the manager by name. "Is Pat working today?" If yes, refresh his memory about you and say something like, "Last time I was here, the WiFi was free. I was looking forward to that again," recommends Flaquer.
Once the staff recognizes you, they will be more likely to offer you special deals, upgrades and extras at no cost.
Stay at a bed and breakfast
The cost of staying at a bed and breakfast means the price of breakfast is included, not  to mention that 91% of inns and B&B have free wifi, says Marti Mayne of the B&B industry's Better Way to Stay campaign. Many also offer meal and activity packages, wine and cheese receptions and 24-7 guest snack pantries.