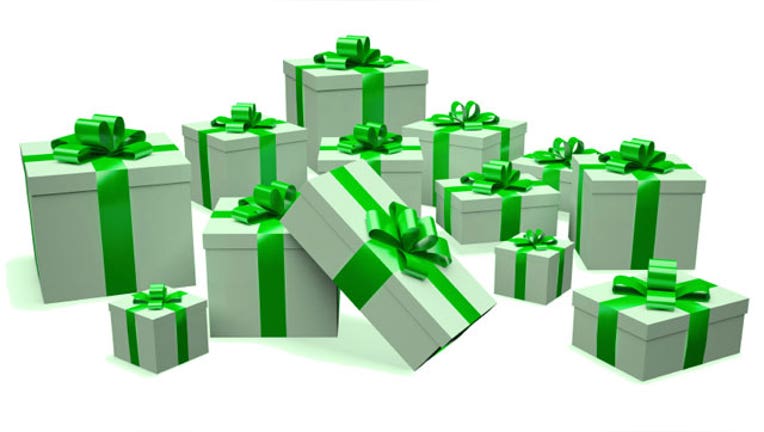 Pre-Holiday Planning
Want to save a little money on the holidays this year?
The best tips are the old standbys: Start early, stock up and be flexible. But don't be afraid to brainstorm a few low-cost alternatives to some of your pricier holiday habits.
"Everybody's looking at their pocketbook," says Jill Gianola, CFP professional and author of "The Young Couple's Guide to Growing Rich Together."
If you're thinking about it, "chances are someone else in the family is, too," she says.
So don't panic if you think the family is expecting piles of presents or a costly trip. Look at your budget, and be realistic. One key to making it work is to get everyone involved in the decision, Gianola says. "Say, 'This is what we'd like to do, but what other things can we think of?' It's about expectations."
Want to enjoy a festive old time without the lingering January debt? Here are nine things you can do now to cut holiday spending without jeopardizing any of the fun.
Take Inventory of Your Holiday Stuff
Before you go out and buy wrapping paper and tape, check your closet. You may have some left over from last year.
"One thing I suggest is to look at what you've purchased (that's) leftover from last year," says Linda Sherry, director of national priorities for Consumer Action. "Take inventory."
Another strategy that can help you see what you already have is to "keep all of your holiday stuff in one area," she says. Once you have it out, test it. "If you have decorations, get them out and plug them in, so you know what you have." That way, you aren't needlessly buying extra just because you see it in the stores.
You also won't be running around at the last minute looking for replacement bulbs or a new strand of lights.
It's also a great time to take care of things you can do ahead of time such as getting e-vites, invitations or holiday cards done or making a playlist for your party, says Peter Callahan, owner of New York-based Callahan Catering and co-author of "Bite by Bite: 100 Stylish Little Plates You Can Make for Any Party."
Draft a Spending Plan
The kids probably don't even know what they'll be asking Santa for yet. But you probably know about how much you want to spend for the holidays. So this is the time to strategize -- before the music, ads and crowds cloud your thinking.
"Go over everything in your mind," and include it in your budget, says Sherry.
Don't forget incidentals such as extra stamps for greeting cards or supplies for holiday baking.
Once you've created a budget or spending plan, "Start putting money away for it every week," she says.
"In our family, we actually start in July," says Andy Byron, financial adviser and partner with HC Financial Advisors in Lafayette, Calif.
"We take the budget, divide by five and add one additional month -- for January sales," he says. That way, they have a little left to pick up bargains after the holidays, he says. And that savings buffer can also come in handy if extra little gifts are needed during the holidays, he says.
Pay Down Your Credit Cards
Planning to use your credit cards for some of the gifts this year? If you have balances, now's the time to plan ahead and wipe them out, says Sherry. Especially if those balances are from last year's holiday. "You never want to get to next Christmas without paying off last Christmas."
If you still have some debt left over from last Christmas, don't choose between saving for the upcoming holiday and wiping out last year's balances.
"Try to do a little of both," she says. "You don't want to put all of your holiday needs on a credit card -- it will have a tendency to mushroom if you're adding on to what you have on from last year." Keep this year's budget to what you can (comfortably) pay off at the end of the month in order to minimize added interest.
And be realistic. "Most people go into the holidays with the best of intentions," she says. "But when you see that monster bill, you say, 'Oh, I'll try to split it up into six or eight payments.' Then it's almost the holidays again."
Consider (limited) Crafting
Do you suddenly realize -- in early December -- that you could have saved a lot of money using your evening TV time for some fun, crafty projects for holiday gifts or decorations?
Start now, and you will have time to actually make it happen.
But craftiness, like garlic, has to be used sparingly.
Two tips to cut the stress:
Be realistic about what you spend on supplies and time. Often, it can cost just as much (or more) to make some items as it can to find them on a sale table.
Keep projects reasonable. One set of potholders for a friend who loves to cook? Fun. A set for each of your two dozen co-workers (many of whom you barely know)? Not so much.
Stick with things you've done before, and keep the list of recipients to those who would truly appreciate your work. The point is to share the fruits of a hobby you love, not to set up a sweatshop.
Brainstorm Fun, Low-Stress Gift Exchanges
Exchanging gifts with extended family and friends doesn't automatically mean burning through cash or spending hours shopping. In September or October, you have time to talk and plan something fun and inexpensive, says Hillary Mendelsohn, author of "thepurplebook" series of shopping guides and founder of ThePurpleBook.com.
One year, her family exchanged photos. The only rules: It had to be a photo taken that year that the giver absolutely loved, and it had to be in an inexpensive frame.
"We walked away from the holiday table with 10 pictures," she says. "It's a really nice way to chronicle time with family."
In other years, the family opted for handmade items and they once worked together to compile a family recipe book where everyone got a copy.
"How much more relaxed is everyone coming into (the holidays) when they have the time and don't have to compete financially with other family members?" says Mendelsohn. "It makes it so much less stressful."
Book that Hotel
"People worry about airfare, but they sometimes leave hotel accommodations until the last minute," says Amy Chen, online editor at Frommers.com. "And the cost can really add up."
If you're taking the family on vacation for the holidays, "It makes sense to rent an apartment or a house," says Chen. But you "really need to start looking earlier. A lot of peak travel dates are starting to fill up."
A couple of the sites she recommends are HomeAway.com, AirBnB.com and VRBO.com.
You can also use online maps and Google Street View to check out properties, says Chen. Ask about any cleaning deposits and the payment method. Skip anywhere that involves wiring money, she says. "You want to be smart about protecting yourself."
Check Out Airfare
"Eight weeks is usually the magic number" when it comes to getting the best prices on holiday travel, says Mendelsohn. That means planning Thanksgiving and Hanukkah travel in September and booking those Christmas trips in October, she says.
It'll help you save up to 50% on those last-minute fares and hotel rates by booking ahead -- especially for popular warm-weather destinations, she says.
Three more ways to save on air travel:
Avoid flying Friday, Saturday and Sunday. "Fares tend to be higher," says Chen. "If you play with (the) flexible booking tool that a lot of sites have, you can see what the options are for different combinations."
Go nonstop. While the ticket may cost more, you also limit the risk of expensive weather-related delays (read: last-minute hotel stays). "The last thing you want to do is deal with a missed connection when the whole East Coast is down due to a blizzard," she says.
Be flexible. Family holiday get-togethers don't always have to take place on the day, says Gianola, whose bicoastal family often gathers a day or two before or after the actual holiday. "The joke is that we have movable feasts," she says
Stock Up on Party Food and Wine
Want to serve your holiday guests your favorite beers or wines and save money doing it?
Decide what you want to serve now, then keep an eye out for specials on your best-loved brands, says Callahan. "That's a great way to buy them and save money."
Membership clubs are also a great place to start looking for these deals, especially on items such as wine and chocolates, which make great holiday hostess gifts, says Byron.
If you have room in the freezer, pick up items that tend to become pricey at the holidays, such as smoked salmon and beef tenderloin, at their pre-holiday prices, Callahan says.
When you find a deal, you can also stock up on party staples such as crackers, breadsticks, flatbreads and nuts, he says.
Most of all, don't be afraid to let today's bargains drive the holiday menu. "It can be really fun to run the aisles at your favorite specialty shop and see what they're offering," says Callahan. "And that's a great way to decide your menu."
Get Your Home -- or Reservations -- Ready
Need a new tablecloth or some new dinnerware for that Thanksgiving dinner? Or maybe you just want to repaint the dining room?
Now's the time to "sit down and say, 'What would I want to do if I were having people over for the holidays?'" says Sherry. "Set a time frame, and make it doable without killing yourself."
Ditto if you need to rent anything for your holiday feast, such as extra chairs, she says.
And if the best thing you make for the holiday dinner is reservations, line that up now, says Sherry. At this point, you still have time to find out which restaurants are open and what they'll be serving, plus you can book the time and seating you want.