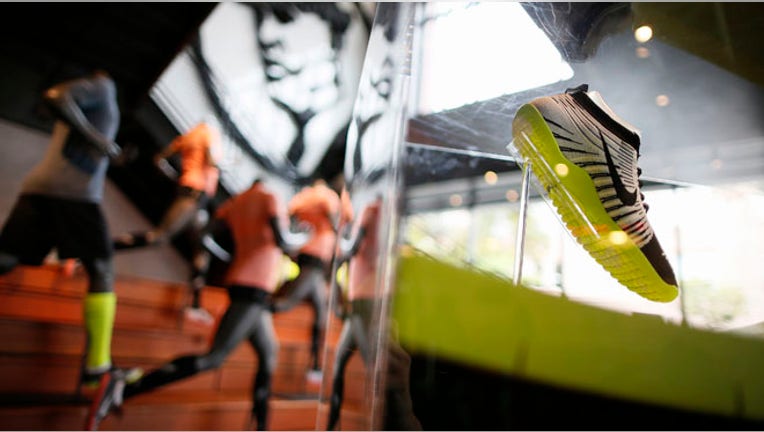 Nike (NYSE:NKE) narrowly topped forecasts with a 3% increase in fiscal second-quarter earnings on Thursday but logged below-consensus sales.
Shares of the iconic footwear and apparel maker initially ticked slightly lower in extended trading before flatlining.
Nike said it earned $537 million, or 59 cents a share, last quarter compared with a profit of $521 million, or 57 cents a share, a year earlier. Analysts had called for EPS of 58 cents.
Revenue rose 8% to $6.4 billion, narrowly missing the Street's view of $6.44 billion. Gross margins expanded to 43.9% from 42.5%.
Global future orders, a closely-watched metric, stood at $10.4 billion, which is 12% higher than the year-earlier period. Analysts had expected futures to rise just 9.7%.
Nike said its inventories climbed 11% to $3.7 billion. Expenses jumped 14% to $2.1 billion.
"Our strong second quarter results show why Nike leads the industry," Nike CEO Mark Parker said in a statement. "Our powerful portfolio fuels growth across our categories and geographies."
Nike said its North American sales jumped 9% to $2.8 billion, while sales in Western Europe climbed 18% to $1.07 billion amid the continent's improving economy. Sales in Central and Eastern Europe rose 17% to $295 million, outpacing an 8% gain in Greater China to $629 million.
Shares of Beaverton, Ore.-based Nike gained 0.31% to $78.50 in extended trading on Thursday evening.
Last month, Nike bumped its dividend up by 14% in an effort to return more cash to shareholders.