Nike protests Rob Gronkowski logo for similarities to Jordan 'Jumpman'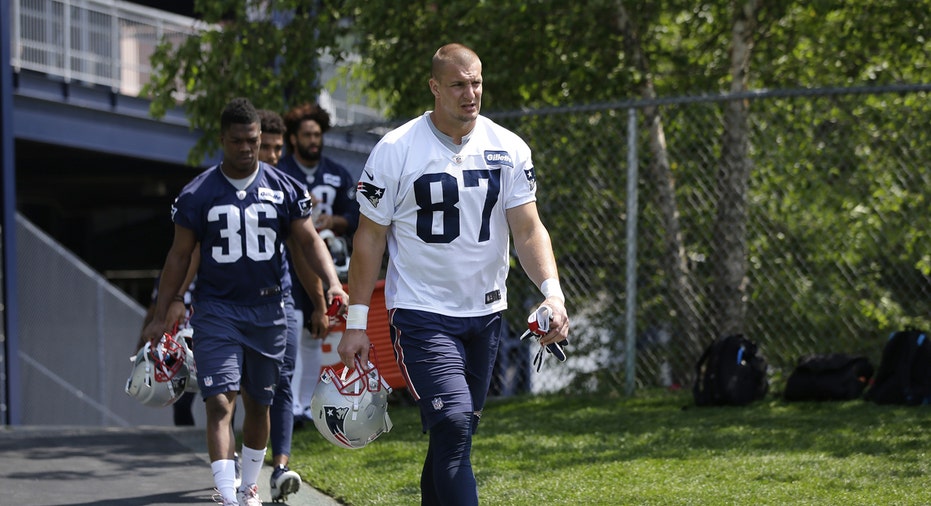 Nike (NYSE:NKE) has moved to block New England Patriots tight end Rob Gronkowski, one of its own endorsers, from finalizing a trademark on his personal logo due to its similarities to Nike's famous "Jumpman," according to an ESPN report published Friday.
In a filing to the U.S. Patent & Trademark Office's Trial & Appeal Board earlier this month, the Oregon-based sports apparel company argued Gronkowski's proposed logo, which features a silhouette of the Patriots' star spiking a football, is too similar to the Nike Jordan Brand's silhouette of Chicago Bulls legend Michael Jordan dunking a basketball.
"We hope to work this out to everyone's satisfaction," a Nike spokesman told FOX Business regarding the filing.
Gronkowski's company filed to trademark the logo in April 2016. His legal team reportedly has until August 5 to respond to Nike.
"My client has created one of the most recognizable brands in sports today," Troy Carnrite, one of Gronkowski's attorneys, said in a statement to ESPN. "We are very proud of this brand and are optimistic that we will resolve this with Nike amicably."
Nike has been one of Gronkowski's most prominent sponsors for the last several years. The company released a personalized "Gronk" training shoe last fall.
Gronkowski, who is widely considered one of the NFL's most popular players, has secured a bevy of endorsement deals during his career. Aside from his agreement with Nike, "Gronk" partners with Monster energy drinks and appeared on the cover of EA Sports' "Madden 17" video game.