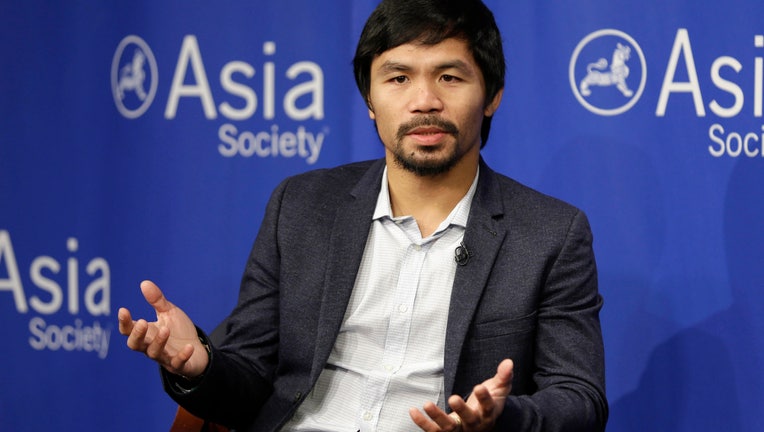 Sports apparel giant Nike Inc. (NYSE:NKE) terminated its sponsorship deal with Manny Pacquiao on Wednesday, hours after the 37-year-old boxing legend said LGBT individuals were "worse than animals" during an interview with a Filipino television station.
"We find Manny Pacquiao's comments abhorrent. Nike strongly opposes discrimination of any kind and has a long history of supporting and standing up for the rights of the LGBT community," a Nike spokesperson said in a statement to FOX Business Network. "We no longer have a relationship with Manny Pacquiao."
Pacquiao, who is currently running for a Senate seat in the Philippines, made the inflammatory comments when local television station TV5 asked for his opinion on same-sex relationships.
"It's just common sense," Pacquiao said, according to the Associated Press. "Have you seen any animal having male-to-male or female-to-female relations?"
Pacquiao went on to say that people who engaged in same-sex relationships were "worse than animals."
Nike opted not to renew its initial sponsorship deal with Pacquiao when the deal expired in 2012, according to Forbes. The two sides agreed to a new contract in late 2014. The apparel brand rolled out a new line of Pacquiao merchandise ahead of his highly-anticipated bout last May against rival Floyd Mayweather, which generated the richest gate in boxing history.
Pacquiao is one of the highest-earning athletes in the world. He earned $160 million in 2015, including $12 million from endorsement deals with companies like Nike and Wonderful Pistachios.
The boxer apologized for his remarks in a post to Twitter (NYSE:TWTR) and Instagram on Tuesday.
"I'm sorry for hurting people by comparing homosexuals to animals. Please forgive me for those I've hurt. I still stand on my belief that I'm against same sex marriage because of what the Bible says, but I'm not condemning LGBT. I love you all with the love of the Lord. God Bless you all and I'm praying for you," Pacquiao said.