Nike Beats Under Armour, Steals NBA Jersey Deal from Adidas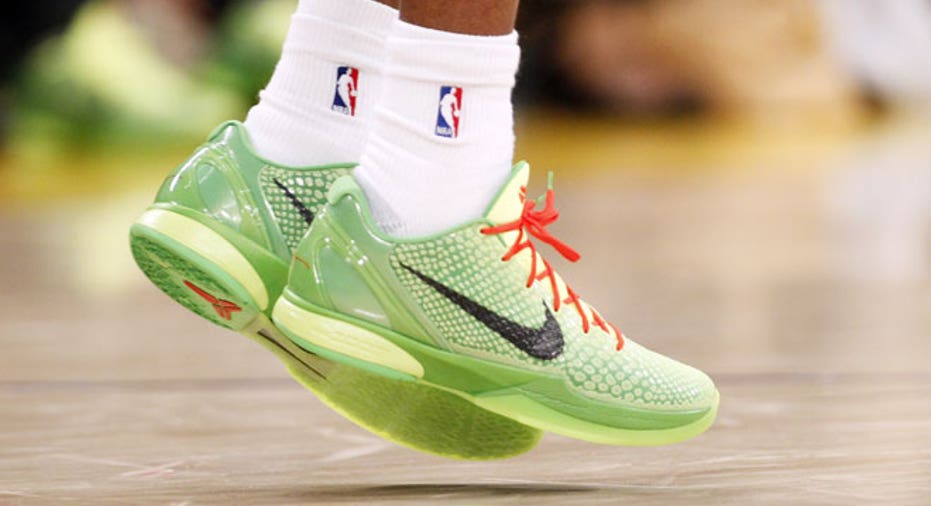 Nike (NYSE:NKE) scored an exclusive deal to become the official uniform supplier of the National Basketball Association, replacing sportswear rival Adidas.
The eight-year contract, which reportedly is valued at $1 billion, starts with the 2017-18 season. Nike will provide NBA teams with all of their jerseys and warmup gear. The supplier agreement also includes the WNBA and NBA D-League.
Nike and Under Armour (NYSE:UA) were said to be competing for the next NBA uniform contract after Adidas bowed out of the running. The German sports apparel giant was named the NBA's official outfitter in 2006, when Adidas took over the sponsorship from its subsidiary, Reebok.
Adidas chose not to pursue an extension, saying the uniform contract was not as lucrative as anticipated.
Nike is hoping for a different result. Corinna Freedman, an analyst at BB&T Capital Markets, said results for uniform providers have varied. It's concerning that "no one has been able to successfully run these [NBA] deals," Freedman added.
However, Freedman believes Nike could recoup more than the $125 million it will pay the NBA each year.
The Beaverton, Ore.-based company already has a massive footprint in the sport, and unlike Adidas, Nike's logo will be placed on NBA uniforms.
Nike accounts for 90% of basketball shoe sales and supplies apparel for USA Basketball and numerous college programs. Nike also is known for its partnership with NBA legend Michael Jordan.
"In Nike, Jordan and Converse we have three of the most connected brands in the world, and look forward to making the global growth of the game a successful strategy for both the NBA and Nike," Nike President and CEO Mark Parker said in a statement.
NBA Commissioner Adam Silver said Nike will be "instrumental" in helping the league grow basketball around the world.
Nike is the largest sportswear company in America. Under Armour leapfrogged Adidas last year to take the No. 2 spot.
Under Armour has enjoyed a strong run of success this year, starting with golfer Jordan Spieth's Masters victory. Stephen Curry, another high-profile Under Armour athlete, was named the NBA's Most Valuable Player for the 2014-15 season. Curry's Golden State Warriors are playing the Cleveland Cavaliers in the NBA Finals.
While it didn't win the NBA contract, Under Armour is the outfitter for some notable NCAA teams like Notre Dame and the U.S. Naval Academy. Under Armour can continue to pursue endorsement deals with NBA stars as well.
"Under Armour has proven to be a formidable opponent in the sponsorship arena," Freedman said, noting how the Baltimore company is "making it more expensive for Nike to remain No. 1."
Nike is the uniform supplier for the National Football League. Majestic Athletic, a unit of VF Corp. (NYSE:VF), holds the rights to Major League Baseball's jerseys. Reebok has a deal with the National Hockey League.
Nike shares rose 29 cents, or 0.3%, to $103.63 in midday trading Thursday. Under Armour slipped 48 cents, or 0.6%, to $81.08.
Nike Inc. (NKE) | FindTheCompany!function(d,s,id){var js,fjs=d.getElementsByTagName(s)[0],p=/^https:/.test(d.location)?'https':'http';if(!d.getElementById(id)){js=d.createElement(s);js.id=id;js.src=p+"://cdn1.findthebest.com/rx/widgets.js";fjs.parentNode.insertBefore(js,fjs);}}(document,"script","ftb-widgetjs");