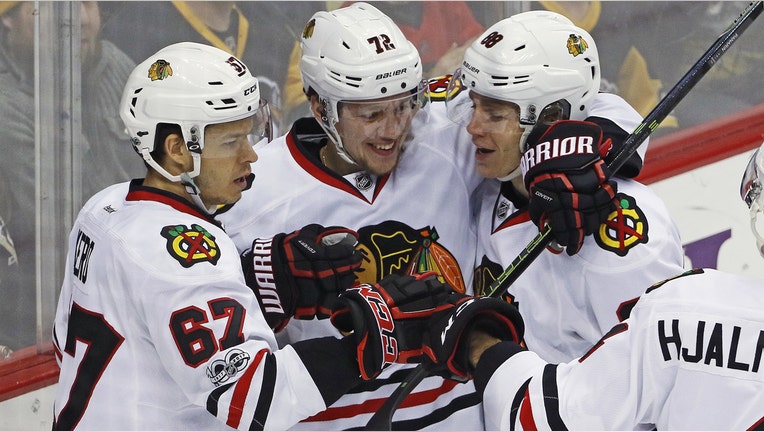 With the Stanley Cup Playoffs set to begin on Wednesday, the list of teams with the best odds of winning the iconic trophy includes some familiar faces, according to a popular online sportsbook.
The Chicago Blackhawks, who hold the top seed in the Western Conference and have won two of the last four Stanley Cups, are this year's betting favorite. Led by elite scorers like Patrick Kane and Jonathan Toews, the Blackhawks (50-23-9) have 4/1 odds of winning the championship, according to Bovada.lv, and will face the Nashville Predators in the tournament's opening round.
The Washington Capitals – also perennial contenders – lead the way in the Eastern Conference, with 9/2 odds of hoisting the Stanley Cup. Alexander Ovechkin's squad totaled a league-best 55 wins and 118 points during the regular season. Washington kicks off their playoff run against the Toronto Maple Leafs.
Last year's champions, the Pittsburgh Penguins, are also in the mix this year, with 8/1 odds of repeating their championship run. Sidney Crosby, whose 89 points ranked second among NHL players this season, anchors the Penguins' offense. Pittsburgh will face the Columbus Blue Jackets.
On the other side of the playoff spectrum, the St. Louis Blues (33/1), the Ottawa Senators (28/1) and the Toronto Maple Leafs (25/1) are all considered longshots to win the Stanley Cup.
The excitement surrounding the Maples Leafs' surprise playoff berth this season – just their second postseason trip in the last decade – has driven up ticket prices on the secondary market. Tickets to Toronto's scheduled home games against the Capitals currently have an average resale price of $381, which is the most expensive price of any opening round contest, according to data from SeatGeek. The Edmonton Oilers ($358) and the New York Rangers ($336) rank second and third, respectively.
Bargain-hunting hockey fans on the West Coast should head to Anaheim, where the Ducks' opening-round home games against the Calgary Flames are selling for an average of just $78 per ticket on the secondary market. The Blues ($90) and Senators ($99) also have relatively inexpensive prices.
Overall, tickets to the NHL's scheduled opening-round games have an average resale price of $162. That total is a 20% increase from last year, when tickets were selling for an average of $135 on the day before the playoffs started.