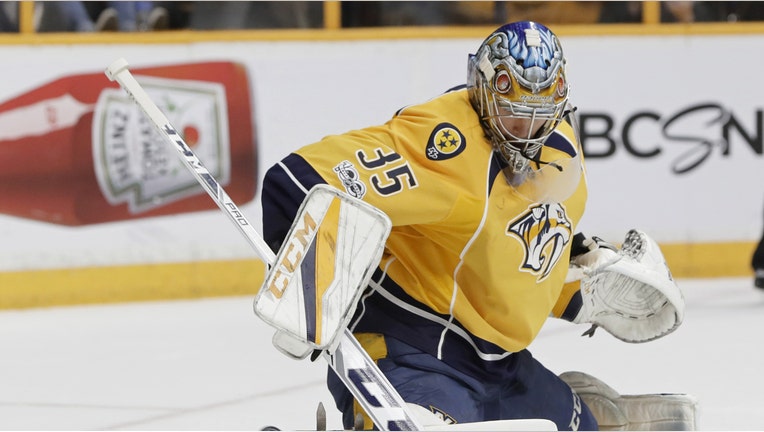 With the NHL Stanley Cup Final and NBA Finals just days away, league officials on Tuesday are ramping up security for their championship rounds after a deadly bombing at an Ariana Grande concert in the British city of Manchester.
The NHL's championship series between the Nashville Predators and the winner of the Conference finals matchup between the Pittsburgh Penguins and the Ottawa Senators is set to begin on May 29, exactly one week after the attack. Games will take place at Nashville's Bridgestone Arena and either Ottawa's Canadian Tire Centre or Pittsburgh's PPG Paints Arena.
Bill Daly, the NHL's deputy commissioner, says the league "already [has] a very thorough and detailed security plan in place."
"Obviously, with yesterday's events, arenas have been reminded to redouble their efforts and to maximize their vigilance," Daly said in a statement to FOX Business. "Our message and request to anyone attending our games would be to report to appropriate law enforcement, security or arena personnel anything that they observe that is the least bit suspicious or out of the ordinary."
British authorities have identified Salman Abedi, 22, as the suspected suicide bomber who detonated the explosive device that killed 22 people and injured 59 others at the Manchester Arena. Local police also arrested a 23-year-old man who has yet to be identified. The Islamic State group claimed responsibility for the attack on Tuesday.
NBA spokesman Mike Bass confirmed to FOX Business that security preparations for the 2016-17 NBA Finals are also underway. The championship round will begin on June 1 and feature the Western Conference's Golden State Warriors and the eventual winner of the Eastern Conference Finals series between the Cleveland Cavaliers and the Boston Celtics.
"We are in communication with the appropriate authorities and taking all necessary precautions to ensure the safety of our fans, teams and staff," Bass said in a statement.